Ormig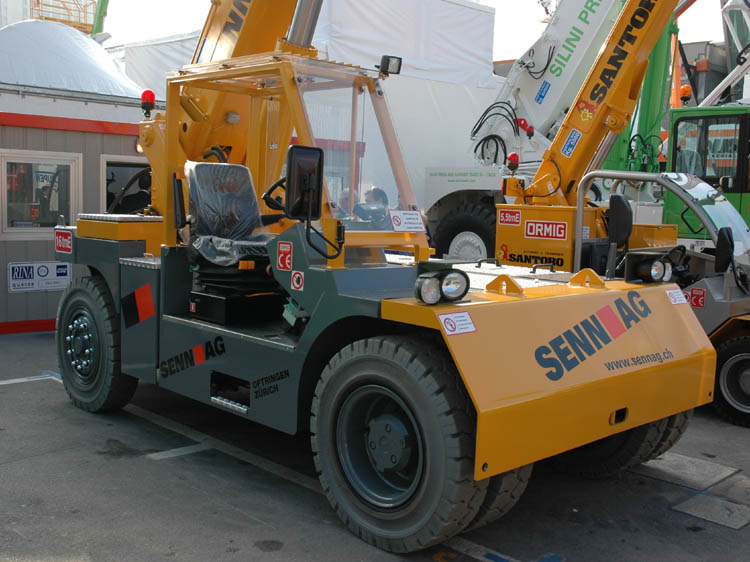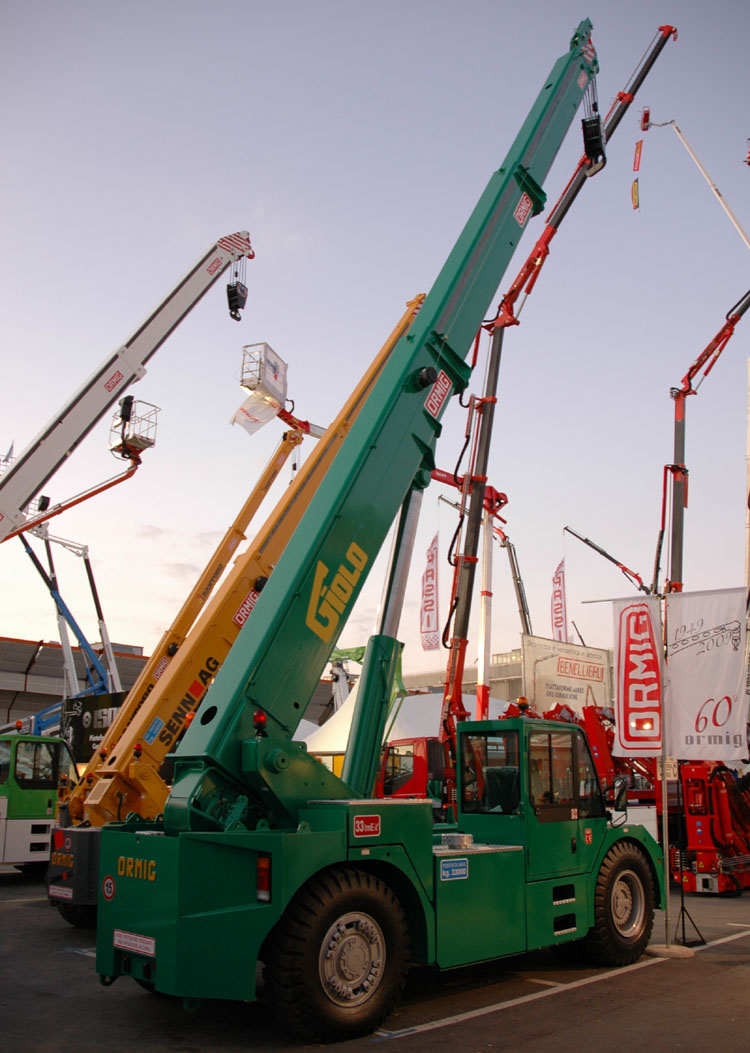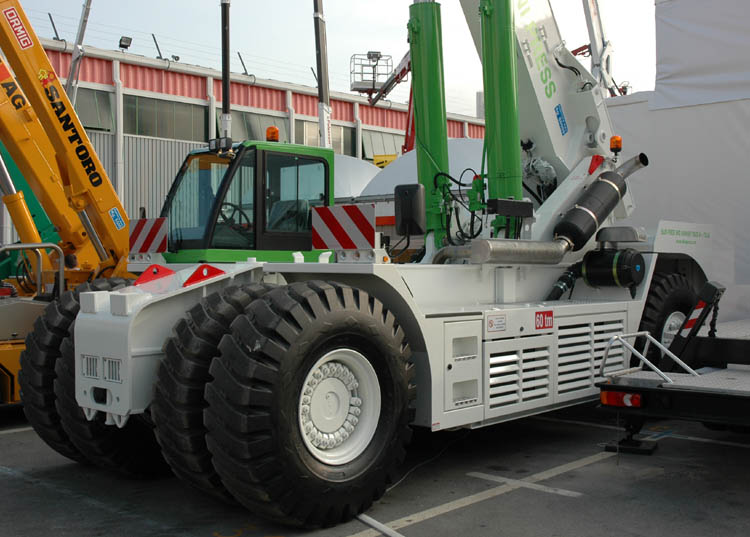 At the Ormig stand stood 3 of these pick & carry cranes. The cranes are a 16 tonnes electic version for Senn AG (CH), a 32 tonnes electric version for Gioli (Padova - I) and a 60 tonnes diesel version for Silini Press and Hammer Trade srl.
Pavelli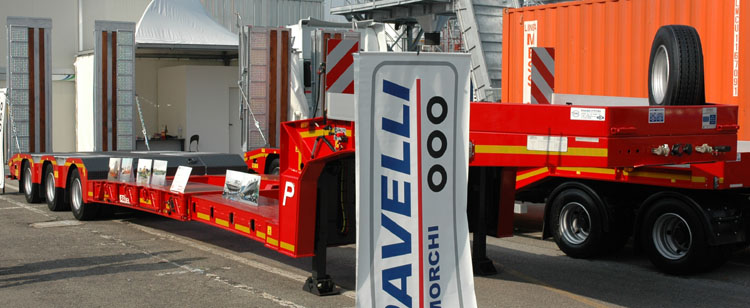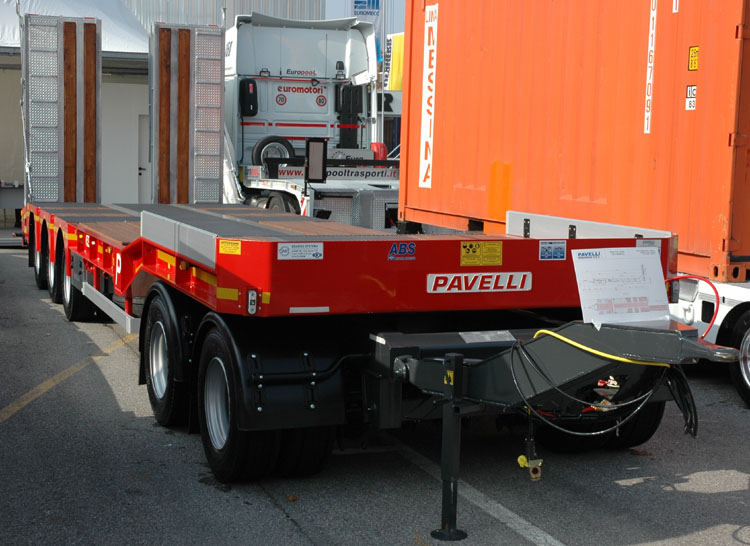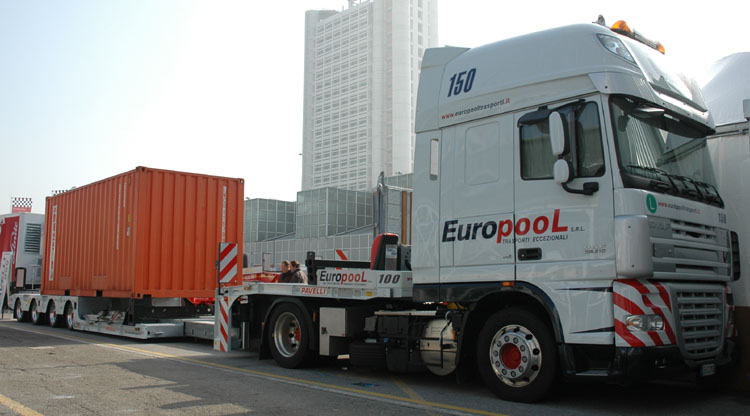 At Pavelli there was a 3-axled extendable lowloader, an interesting 5-axled drawbar trailer and a extendable 4-axled lowloader. The 5-axled unit can have a total weight of 60 tonnes, the last axle is steered.
Pris-Mag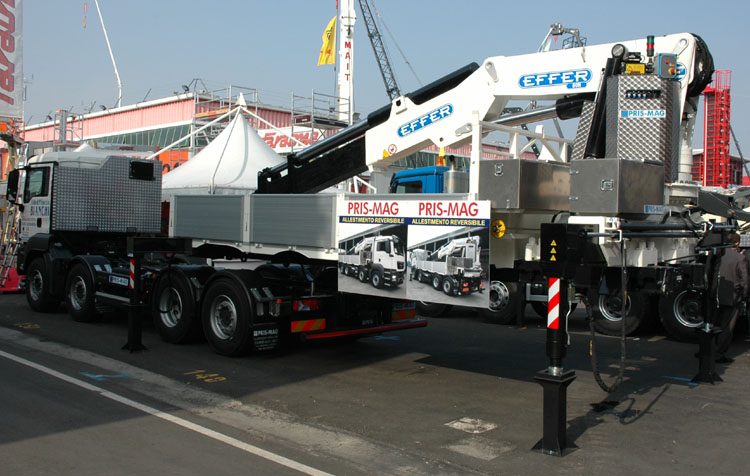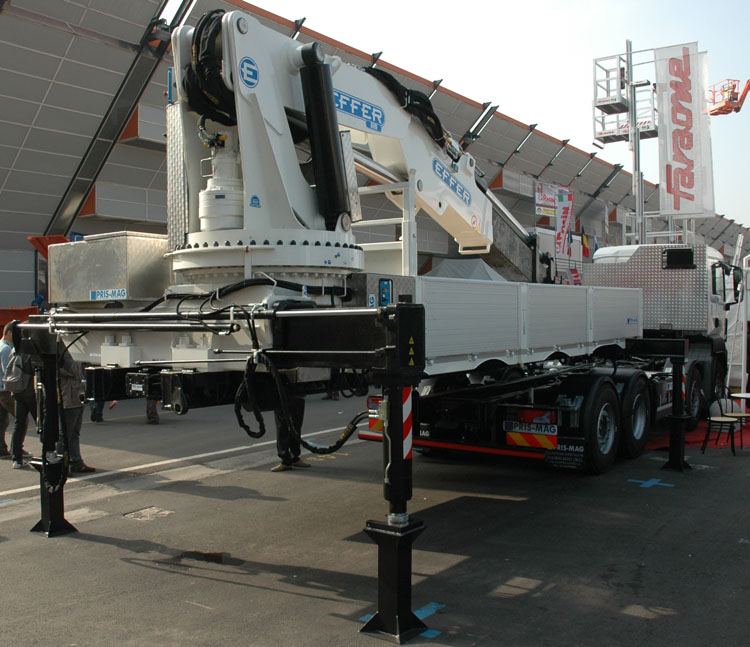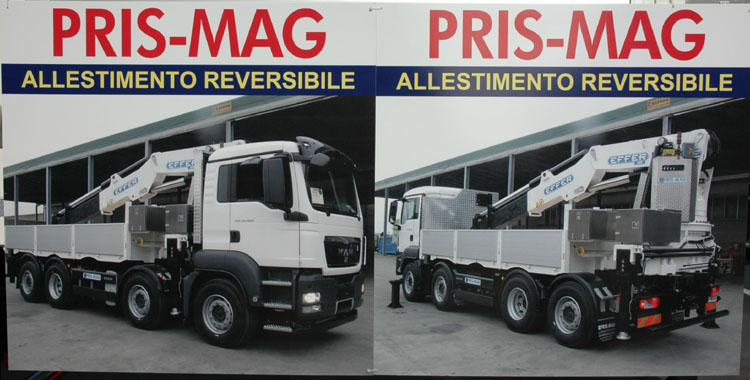 Pris-Mag showed this very interesting demountable body. The body can be mounted onto the truck in both directions and is equiped with an Effer 80N-3S with 2 manual extensions. This is a crane with a lifting capacity of 78,4 ton/mtr and an outreach of 8,35 meter, the manual parts probably give an extra 3 / 3,5 meters. This crane is ideal for machinery movements because of it's heigh lifting capacity and small dimensions.
TCM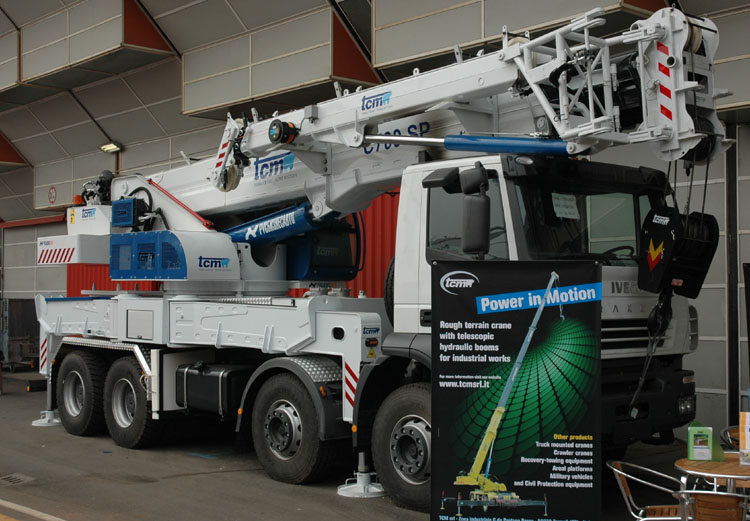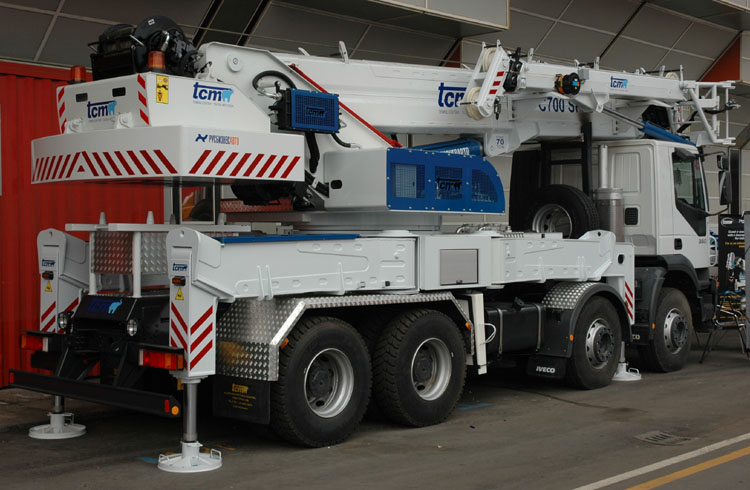 At TCM stood this C 700 SP, a 70 tonnes telescopic crane that is mounted on a Iveco Trakker 380 8x4 and which will go to Russia. It has a telescopic boom of 32,8 meters and also has nearly 11 meter long hydraulic jib. This jib can work horizontal at a height of about 34 meters when the boom is at an angle of 65 degrees.
Terex (Demag)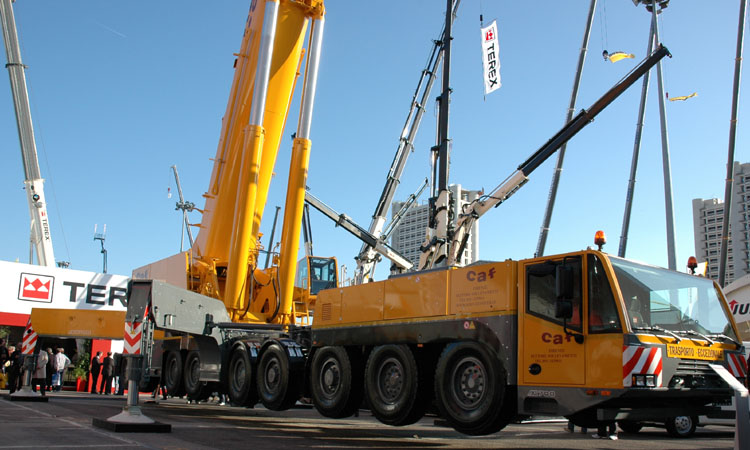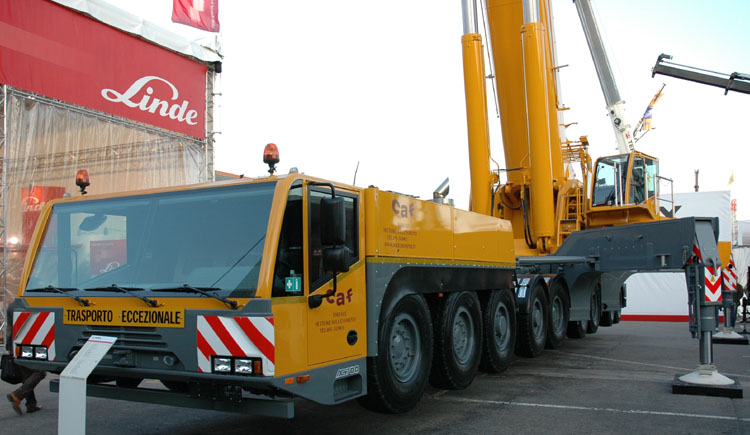 The highlight of the Terex stand was this AC700, a 9-axled 700 tonnes telescopic crane, sold to the company CAF.
Wumag (Palfinger)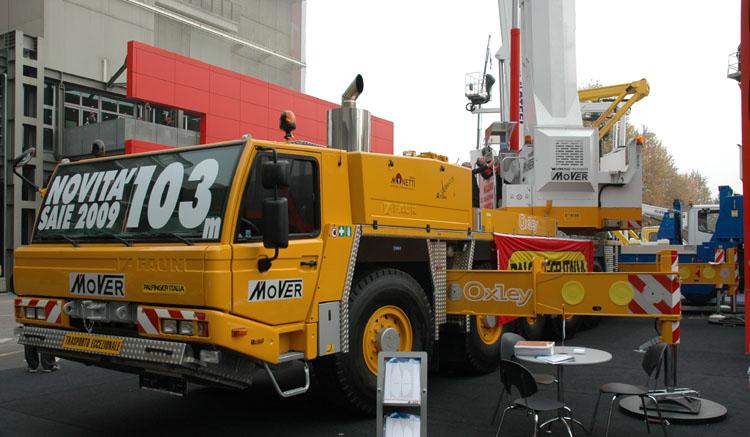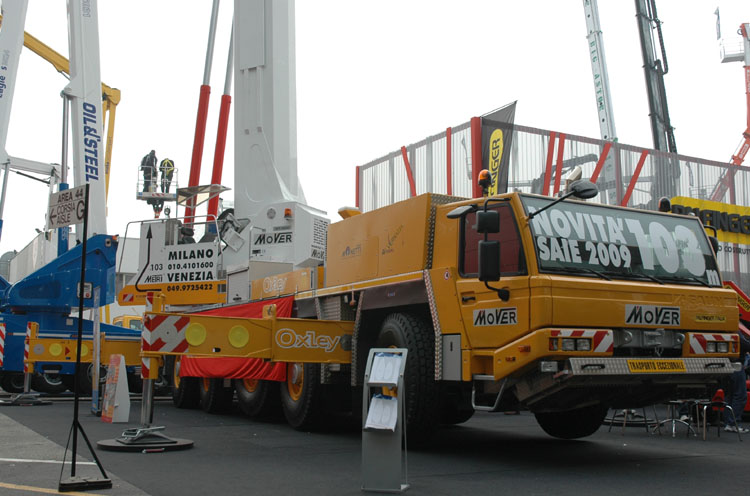 Palfinger had no heavy cranes at their stand, the heaviest was the new PK40002H model, unfortunately not mounted on a truck. At the corner of the stand stood this impressive Wumag WT-1000. This lift is mounted on a Faun undercarriage and can reach a maximum height of 103 meters. This unit goes to Mover, a collaboration of the Monetti group and Vernazza gru.
On to page 6 >>