The 3 trucks below have own reports. Click at a thumbnail for a report.
Astra HD8 88.50 8x8
Export unit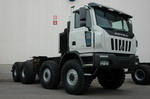 MAN TGX 41.680 8x4
MAN demo
Scania R560 8x4
Lenzi Massimo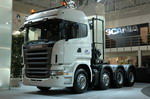 Below follows a overview of the most interesting vehicles of the Samoter 2008.
Astra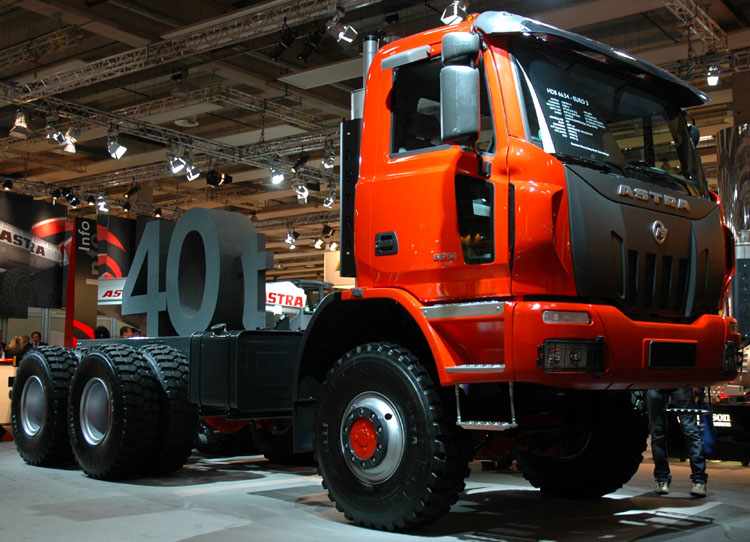 At the Astra stand the new HD8 series was shown, equiped with a new cab and Euro 5 engines. Above we see a HD8 66.54, a 6x6 with a 540 hp Iveco engine and a allowed totalweight of 40 tonnes (2x16 tonnes rear and 8 tonnes front). There where also 6x4 and 8x4 models. Furthermore they showed a ADT 40 articulated dumper and a RD50 rigid dumper.
Bucher - BSI Veicoli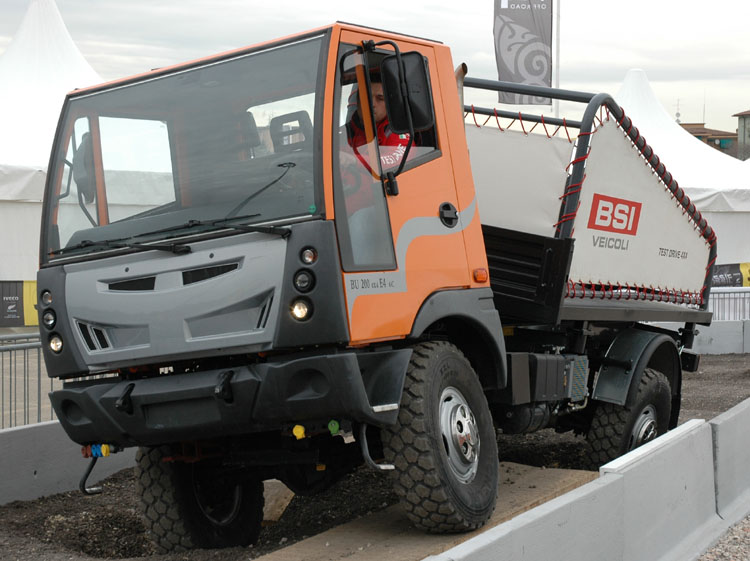 BSI Veicoli demonstrated the terrain capabilities of the Bucher vehicles. Here we see a Bucher BU 200 4x4 in Euro 4 version bending strong at the special testtrack.
Cifa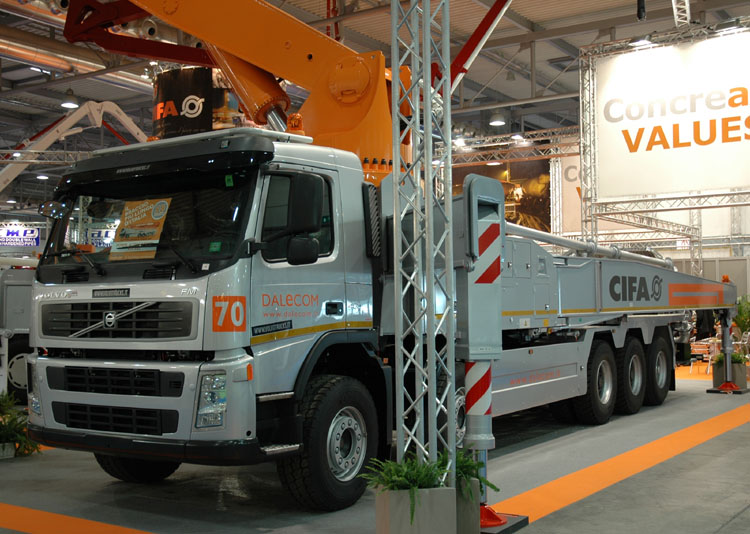 Cifa showed a 5-axled Volvo FM480 of Dalecom with a K58L concrete pump on it (58 meter boom length). The conversion from 4- to 5-axled chassis was done by Austeras.
Cormach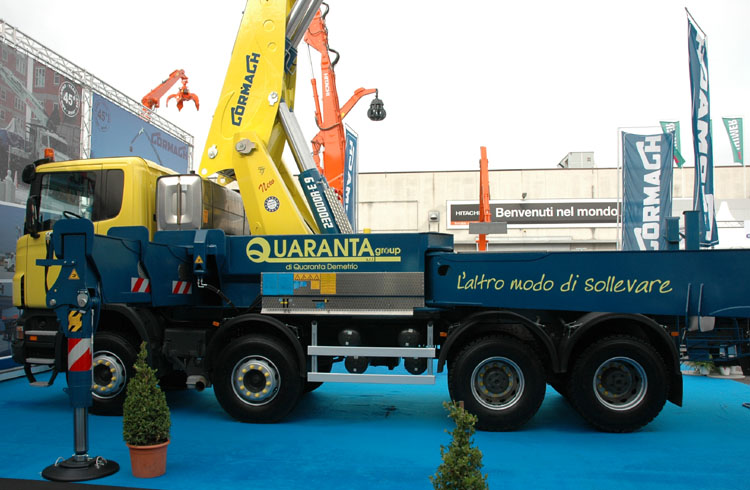 At the Cormach stand the new topmodel (already shown here) was displayed. The final modelname has become 230000.
CSM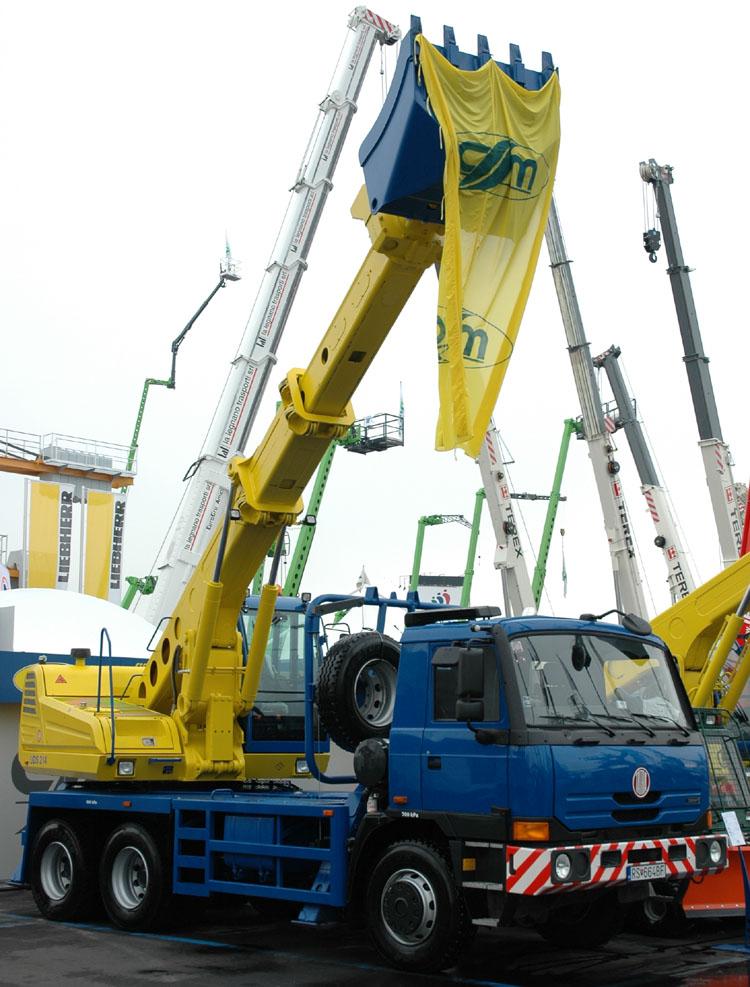 CSM had this interesting Tatra 6x6 with UDS 214 digger at there stand.
Dulevo
Dulevo, a manufacturer of sweepers, had this multifunctional chassis (type 5000 - Euro 4) with front mounted cab and all-wheel steeering at there stand. Behind the cab stands an Iveco engine. The chassis is allowed for 40 km/h.
Etra (Titan - Goldhofer)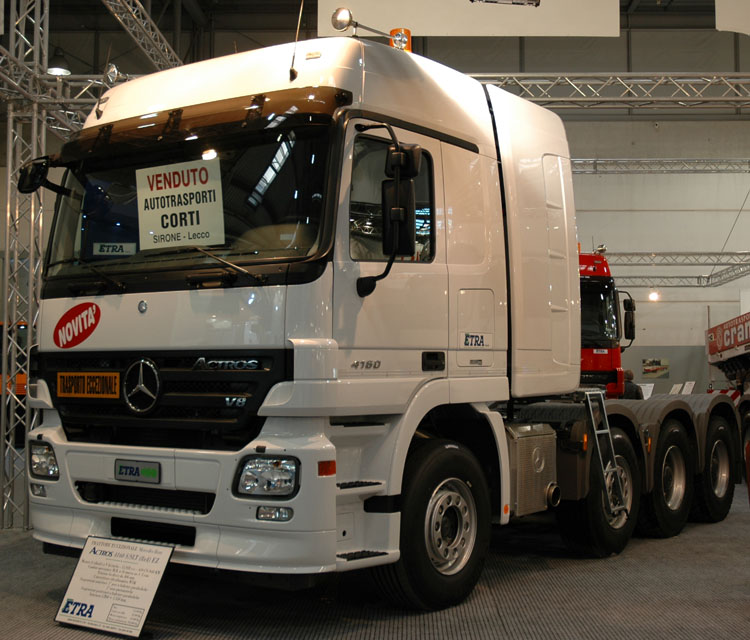 At the Etra stand there was this Titan 4160 8x4 with WSK 400 for Corti transport. There where also 2 Mercedes 3355 6x4 tractors for heavy transport (135 and 150 tonnes total) and a 4x2 tractor that is allowed for 116 tonnes. One of the 6x4 tractors was coupled to 6 Goldhofer axle lines for Cram transport.
Eurogru - Amici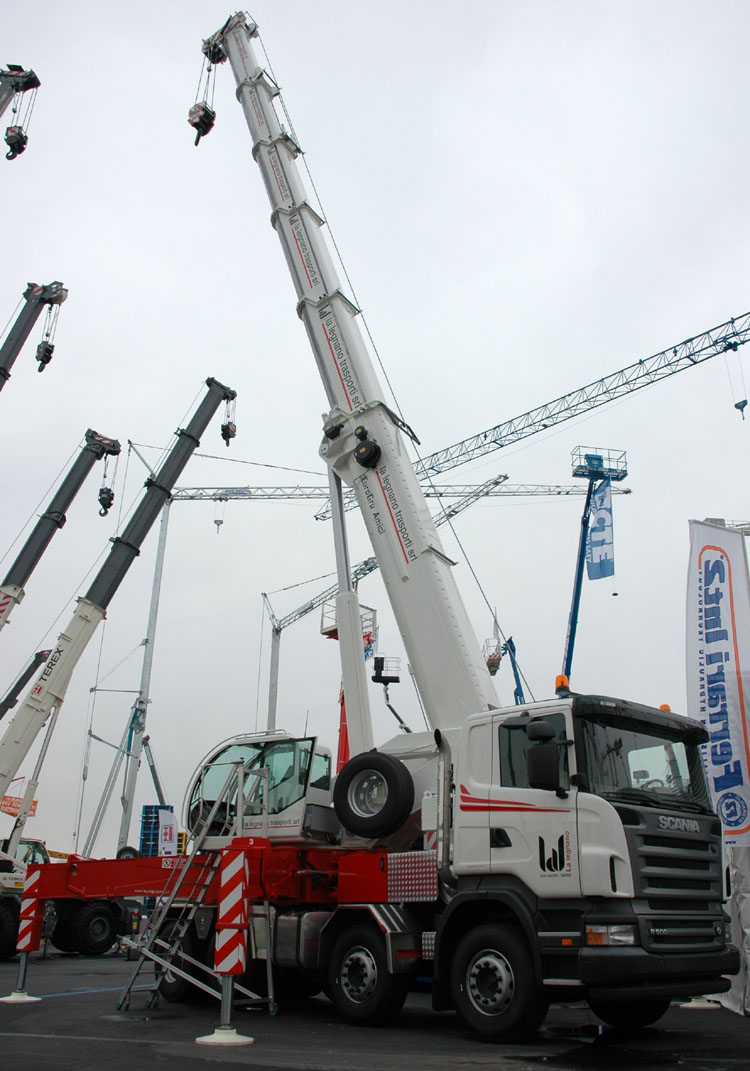 Eurogru-Amici displayed a R500 8x4 of La Legnano from Legnano (Milan) on which a 150.35 telescopic crane is mounted. The crane can lift a load of up to 150 tonnes and has a telescopic boom of 35 meters. Interesting are the following features:
- Allowed total vehicle weight with trailer: 180 tonnes !! (heavy drawbar coupling)
- 380 Volt connection
- Can be moved with a load of up to 20 tonnes at the hook, hanging directly behind the truck
- Liftable rear axle for more manoeuvrability
Grove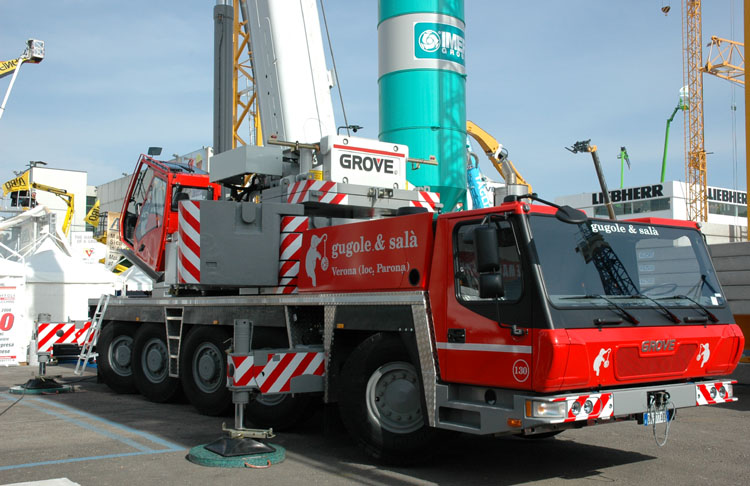 Grove showed this GMK 5130-1 of Gugole & Salà, a crane rental company from Verona.
Idrogru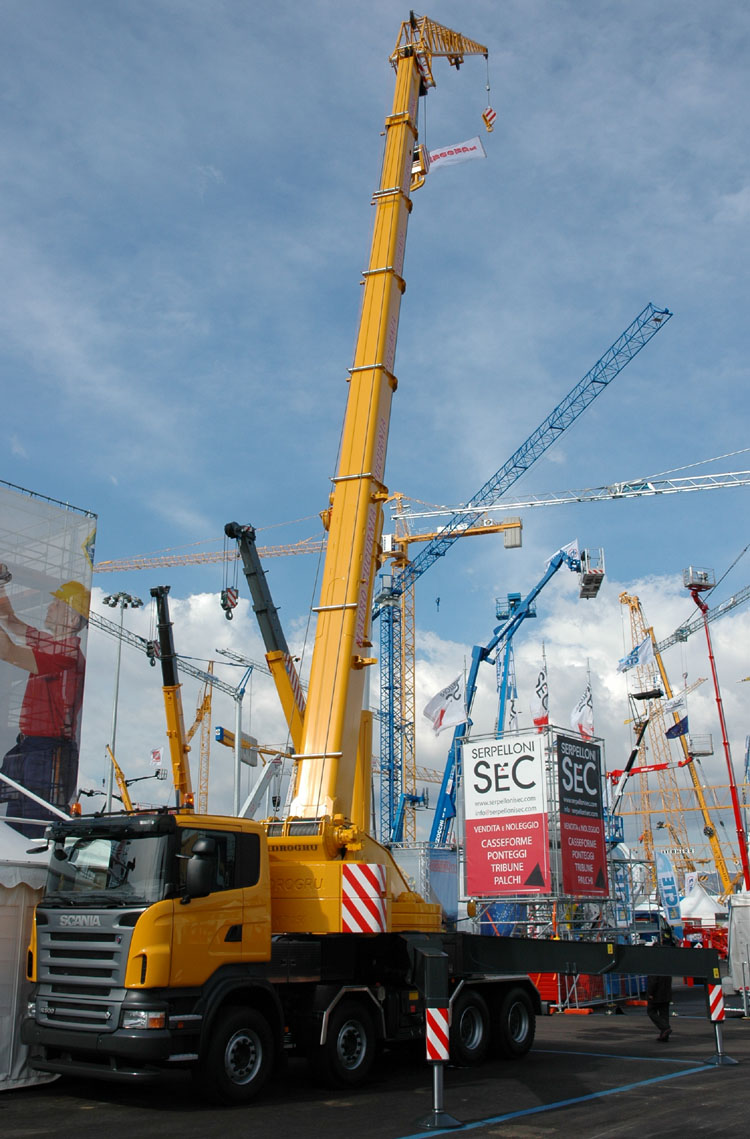 At Idrogru there was this Scania R500 8x4 with a KT150-33. This is a 150 tonnes telescopic crane with a lattice boom jib for Mauro Cucurnia.
Iveco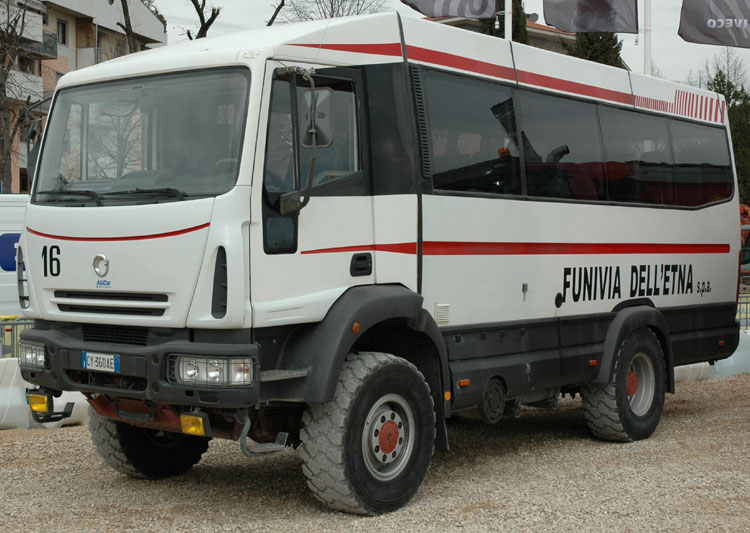 This was Iveco's most interesting vehicle. It is is a Eurocargo 4x4 with a bus body of AbiCar/Irisbus for tourist rides over the Etna volcano.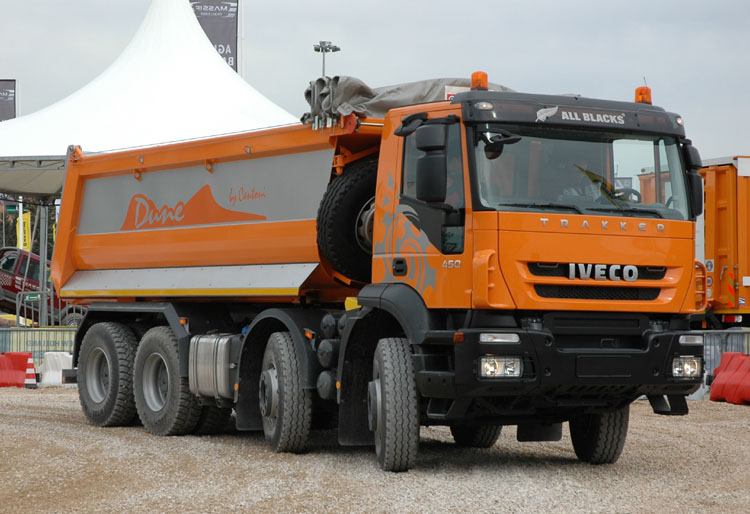 Iveco had a testing area with a lot of Massif's and 2 Trakker 8x4 tippers.
Liebherr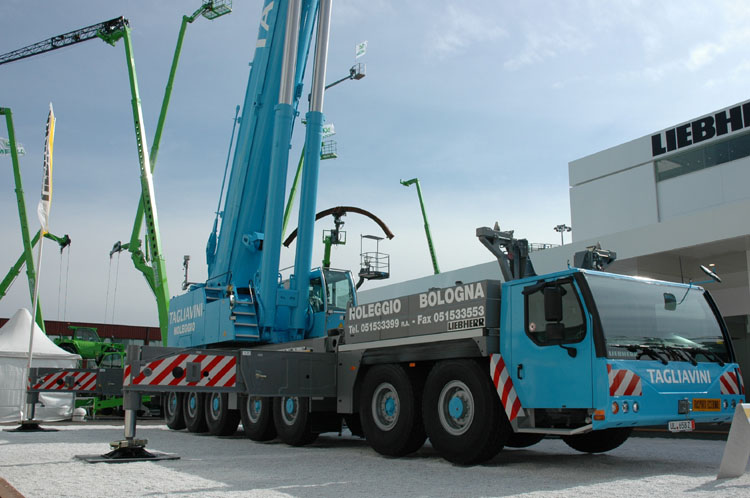 At the Liebherr stand this nice LTM1400-7.1 of Tagliavini could be seen.
Marchetti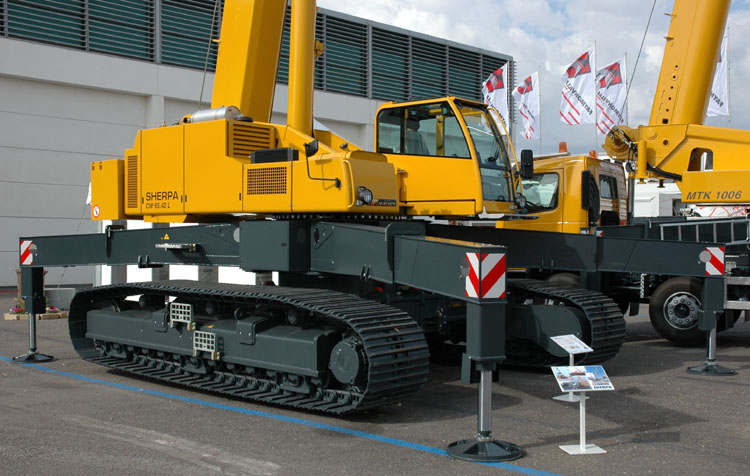 At the stand of Marchetti there where 2 cranes. This Sherpa CW 65.42 L is a telescopic tracked crane with a lifting capacity of 65 tonnes on the outriggers and 44 tonnes when standing on only the tracks. The boomlength is 42 meters, with jib 59 meters. The own weight is 56,5 tonnes. The crane is being driven by a 240 hp Iveco engine. Beside this crane there stands a MTK 1006 on a Volvo FM 430 8x4, a crane with 40 meters of boom and 80 tonnes capacity.
PMI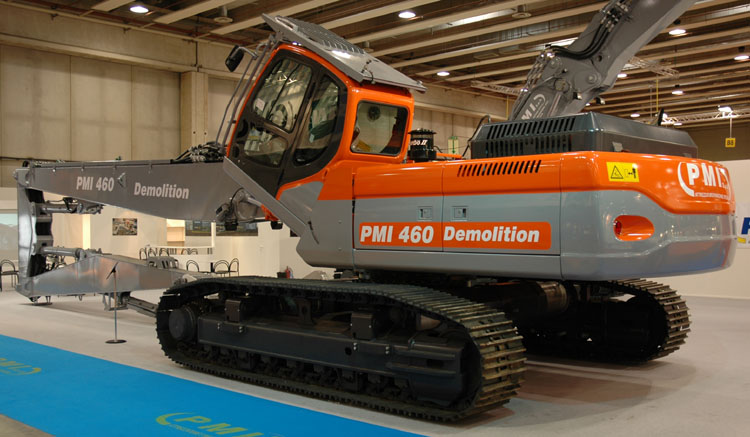 The italian specialist for conversions of excavators is PMI. This 460 Demolition was on display, it is based on a Doosan excavator.
Sermac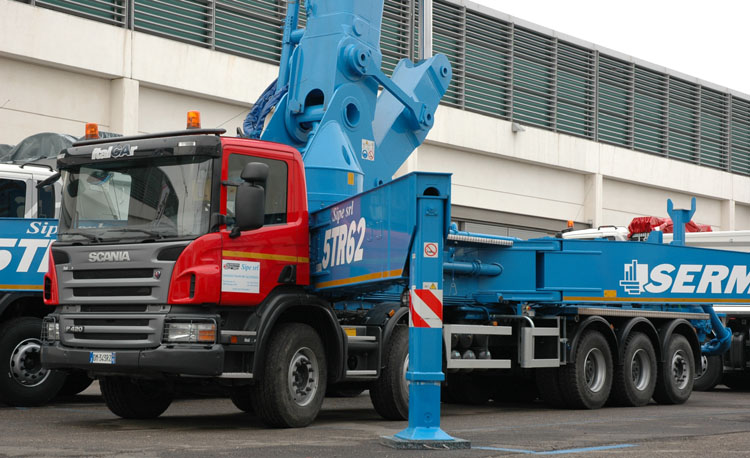 Sermac had this Scania P420 10x4 of Sipe srl. at the open air area. It is a 5-axled chassis that could also be seen at the Transpotec. A 5TR62 concrete pump of Sermac is mounted on this chassis. It has a boom length of 62 meters.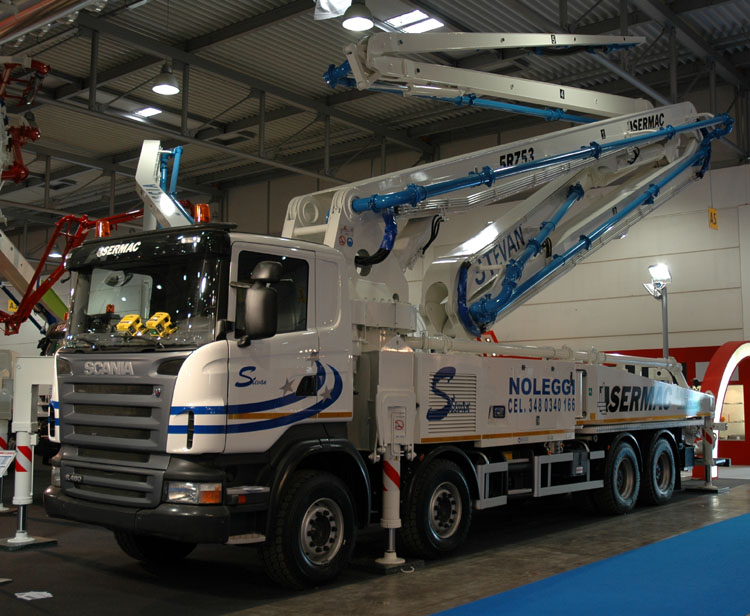 Inside stood this Scania R480 8x4 of Stevan noleggio with a Sermac 5RZ53 concrete pump, a pump with 53 meter boom.
Streumaster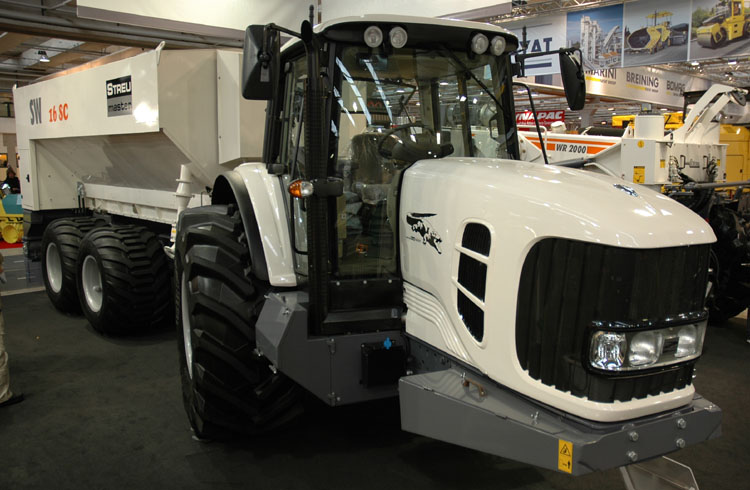 At the Streumaster/Wirtgen stand stood this interesting Streumaster SW 16 SC, a combination of the rear of a John Deere tractor and a spreader that are connected to eachother by a articulated connection.
Back to the events index