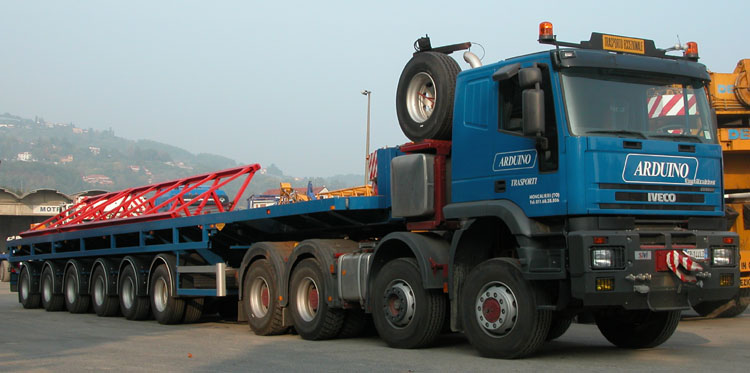 The company Arduino from Moncalieri near Torino (I) owns some very interesting vehicles.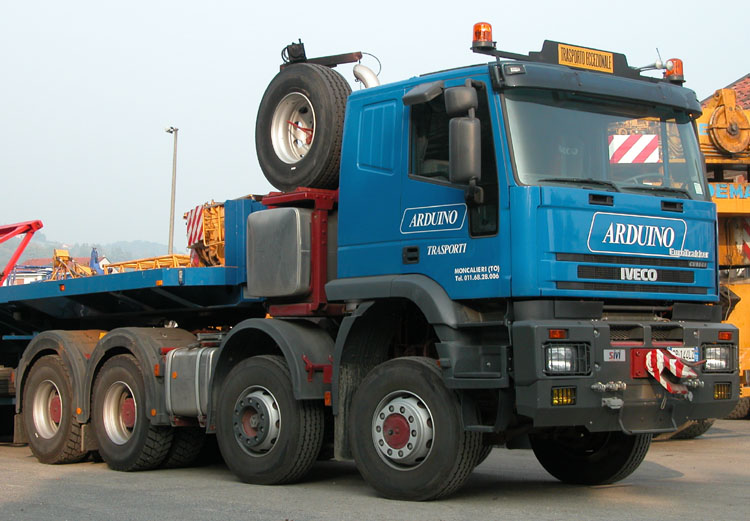 This Sivi-Iveco Eurotrakker 540 in 8x6 version definitely belongs to that category. It has a 13-liter Cursor engine that has 6-cylinders and produces 540 hp. The maximum torque is 2350 Nm. Between engine and gearbox there is a WSK 440.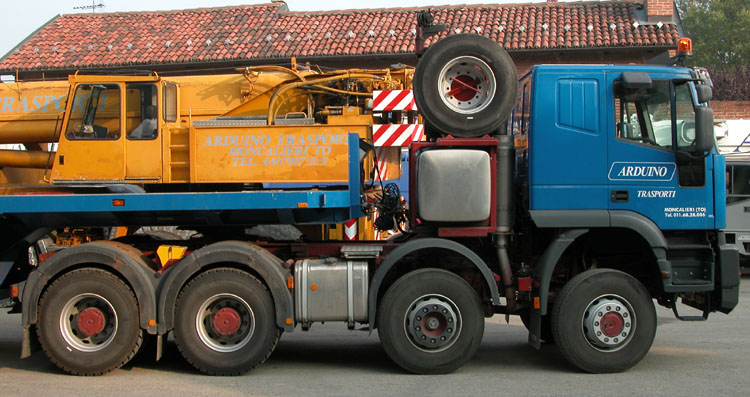 Remarkable is the compactness of the truck, a advantage of the 8x6 concept. The truck originates from a 6x6 chassis that is equiped with a additional non-driven front axle.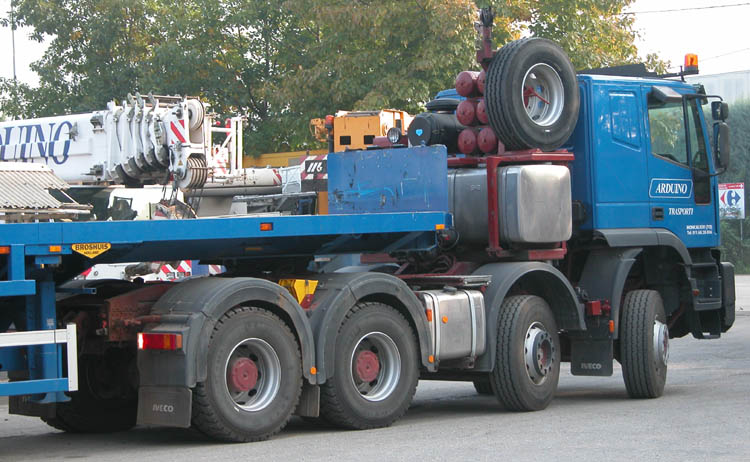 This compact way of building the truck results in very less space between the axles for parts. That is why for instance the air barrels, the spare wheel and the 2nd dieseltank are mounted in the tower behind the cab.
The tractor is often being used in combination with this 6-axled Broshuis trailer. This trailer was delivered to Arduino in 2004 and is a double extending version. The retracted length is 17 meter. The maximum length when it is extended is 37,6 meters.
The last 5 of the 6 axles are hydraulically steeered. The first axle is fixed and liftable. The maximum payload at 60 km/h is 115,16 tonnes. This gives a axle load of 13,86 ton and a fifth wheel load of 32 ton.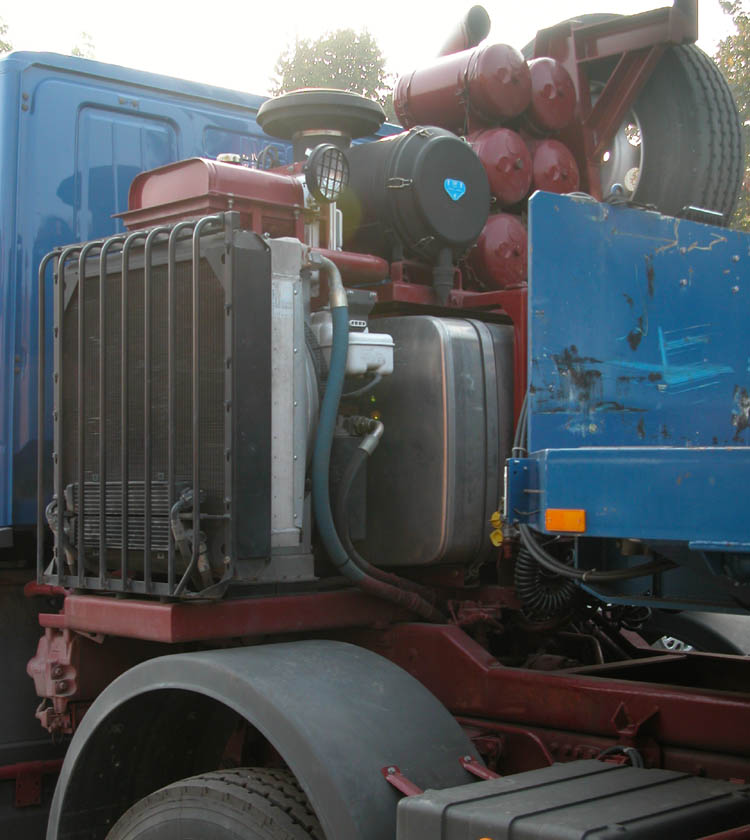 Here a view on the tower from the other side. At this side they mounted the additional cooling system for the engine and the gearbox. Three coolers are mounted behind eachother here. The first one is a small oil-air cooler for the hydraulic system. Behind that is large water-air cooler to cool the water of the engine, and the last one behind that is an oil-air cooler for the torque converter (WSK). Behind these coolers is a large cooling fan that provides enough cool air. At the top of the tower we see the air filter of the engine.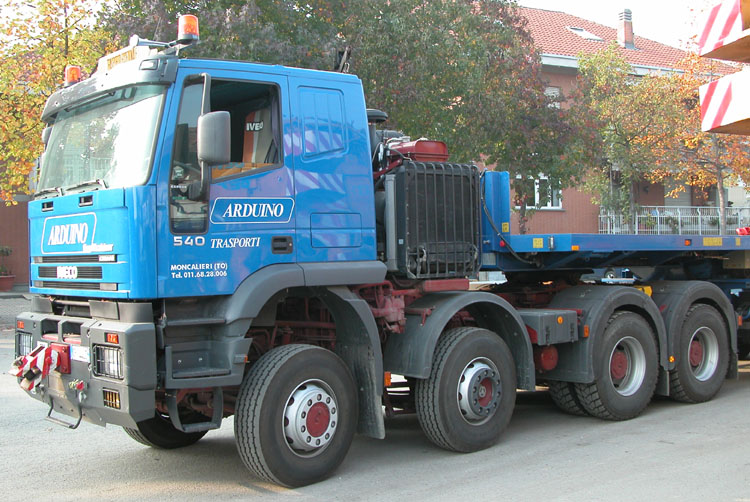 Below the tower, between the first 2 mudguards, there is additional heat exchanger that also cools the WSK. This unit transfers the heat from the oil into the water of the engine.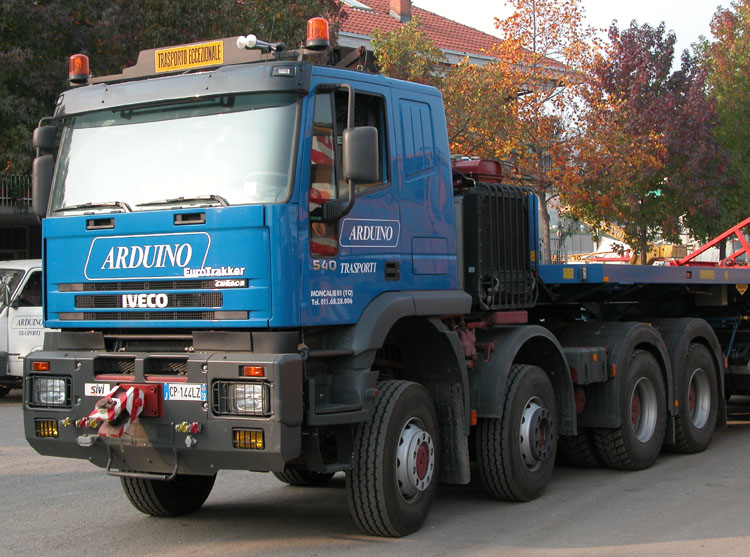 At the fron they mounted a heavy bumper so that also heavy trailers can be pushed. Also fhe air supply and a heavy couling are available for such jobs.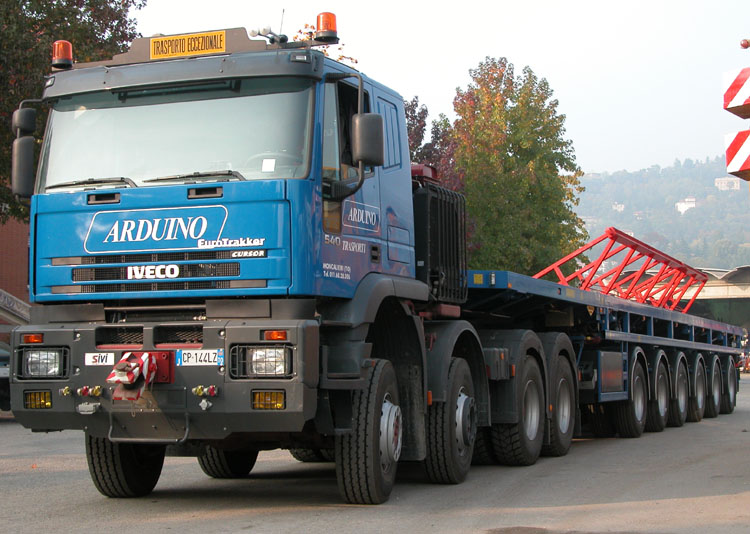 In Italy already not very common but in the rest of Europe a real rarity ... A very nice combination!
The Sivi above isn't the only one that Arduino owns. On the parking lot there was this second 8x6 tractor, a 410E52. It has a 520 hp engine and is also equiped with a WSK 400 torque converter.
Many thanks to the staff of Arduino for the cooperation
and thanks to P. van Urk for information about the trailer.
Back to the Iveco/Sivi index