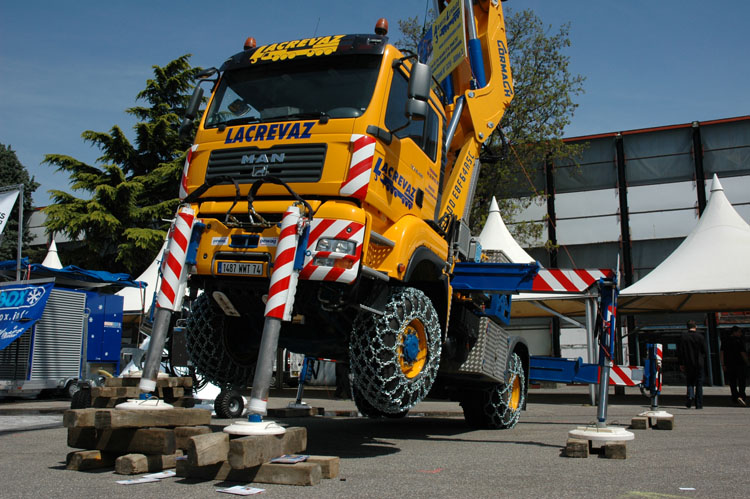 At the SAM 2008 (exhibition for mountain-equipment) in Grenoble stood this new MAN 18.480 4x4 of Aravis Levage/Lacrevaz from Cruseilles (F), a company specialized in lifting jobs in the mountains.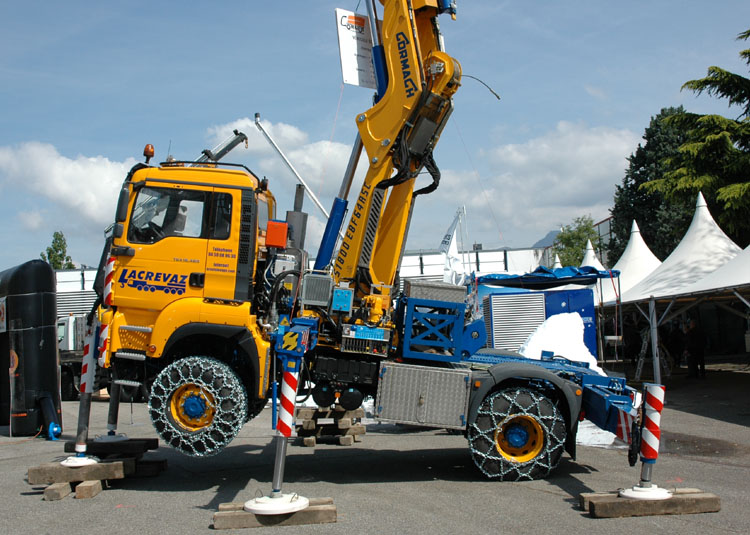 It's a 4x4 crane truck that has been customized for the work in a mountaines area. At this exhibition the outreach of the outriggers was demonstrated by putting the trucks on piles of wooden blocks. In the mountains it is important to have enough reach on your outriggers in order to level the truck for lifting. Despite the large outreach it is often necessary to use piles of wood on strong slopes in order to get a stable platform for the truck.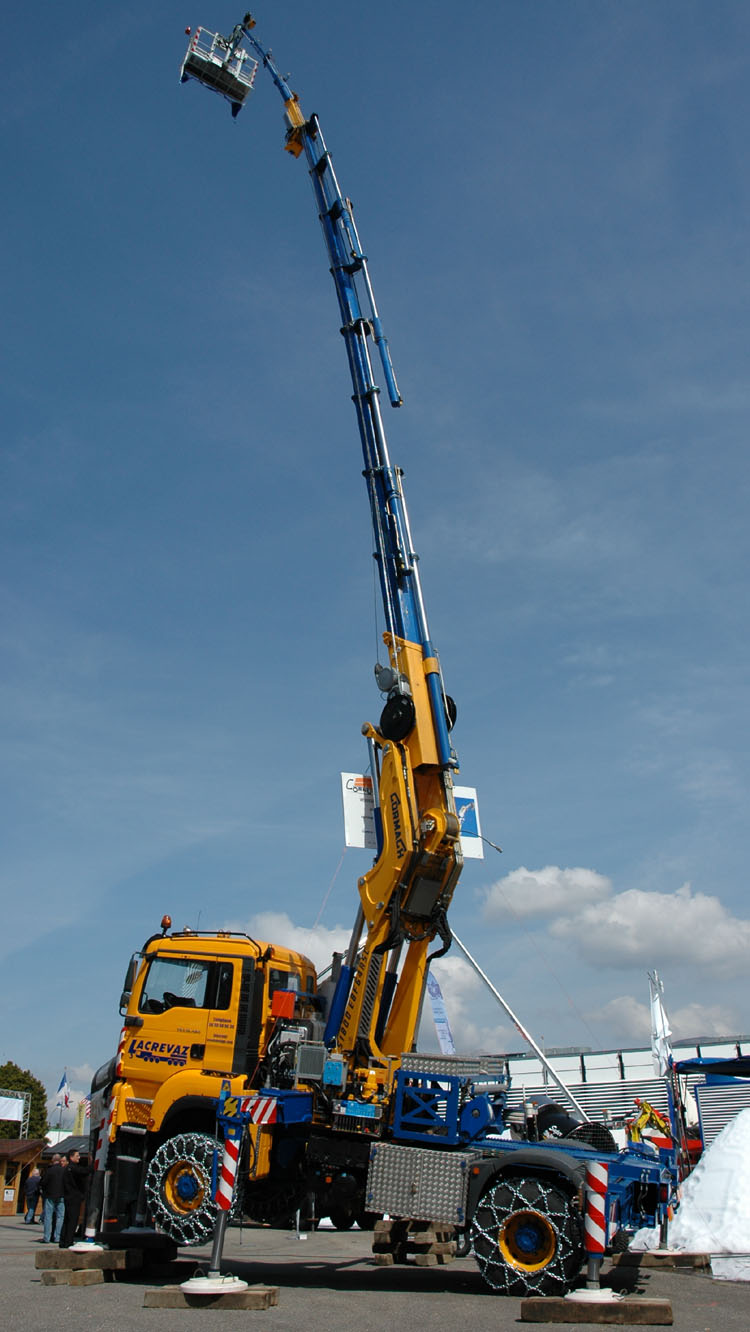 A demountable Cormach 51800 E8 has been mounted on this MAN, a crane that has an outrech of 18,6 meter and capacity of 1,52 tonnes at that distance. With a 4x extending jib this increases to 28,64 meters where it can lift 400 kg.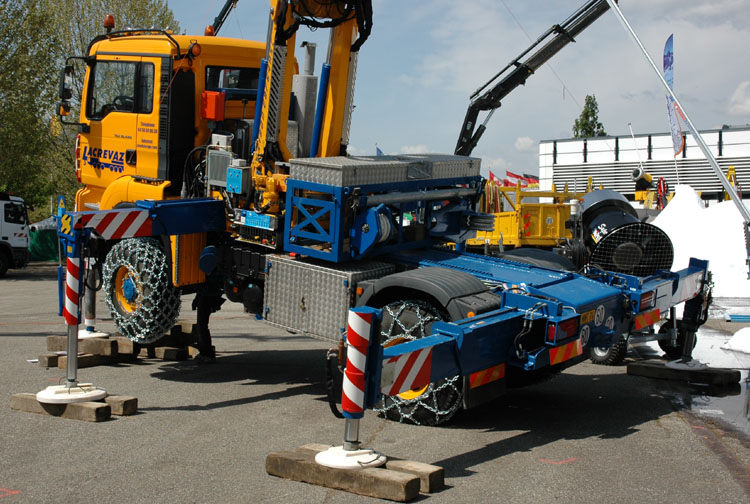 If the crane is demounted the MAN can be used as a tractor. Behind the rack the rails of the slideable fifth wheel can be seen. The rear outriggers can also be taken away. The snow chains may look like overkill, but in the winter they are absolutely necessary!
The outreach of the outriggers was already mentioned above. Here it is clearly visible how they solved it here. The cylinders of the rear outriggers are both adjustable in height. This way the cylinder can be mounted low to give a large outreach, or can be mounted way up high so that it is possible to put the outrigger on a upward slope. High mounted cylinders also give a good angle of slope, good for driving on mountaines roads.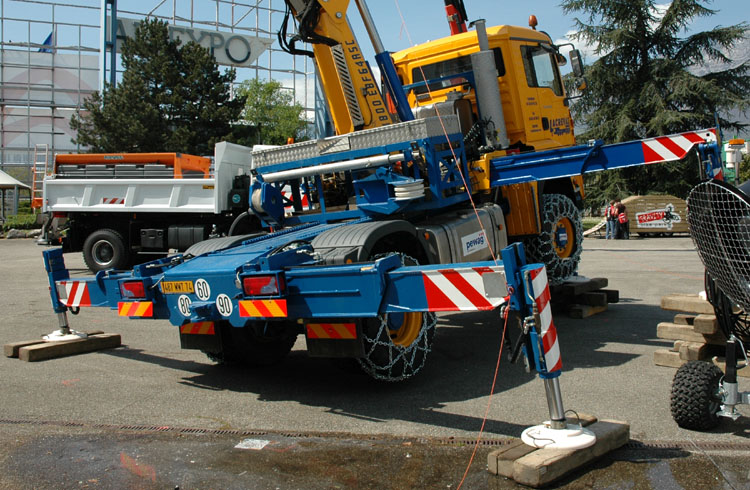 The rack behind the crane is used to store all the utilities like blocks or special winchheads.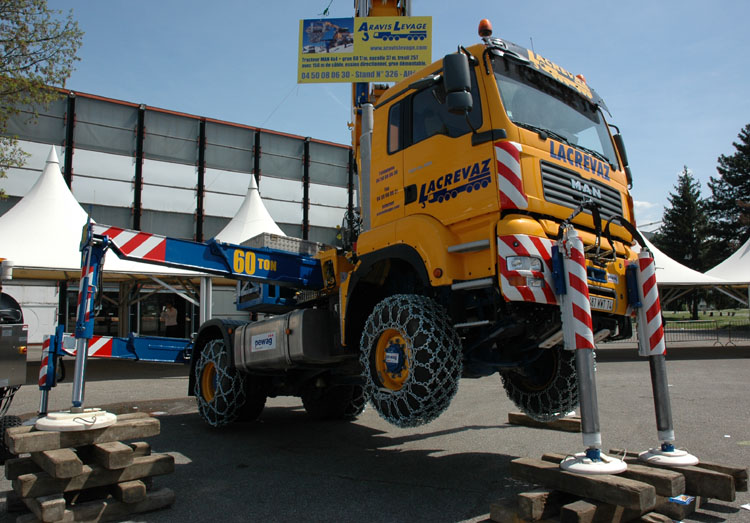 The complete chassis has been reinforced, also to the front. The crane is stable in all directions. A set of heavy height-adjustable outriggers have also been mounted to the front bumper. They are demountable asswell. A very interesting and completely tailer made vehicle of which I hopefully will be able to get action photos in the mountains!!!
Thanks to Mr. Lacrevaz for the warm welcome at the exhibition
Back to the: MAN index / Cormach index