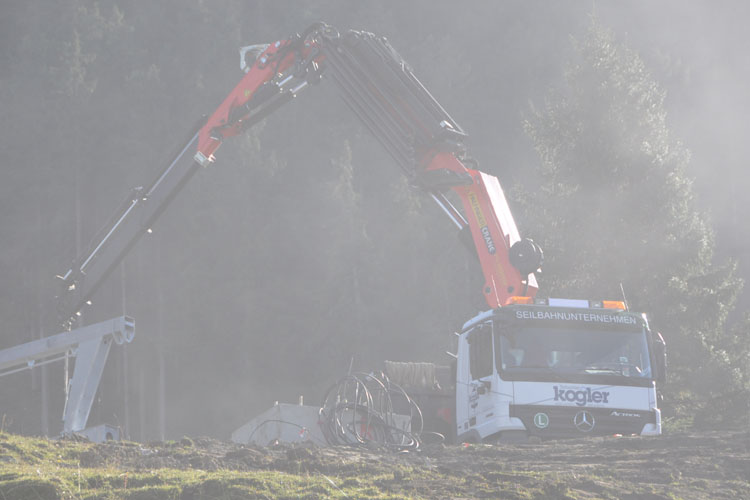 Here we are in Nesselwang (D) at the middle-station of the (mountain) Alpspitze. A Palfinger crane can already be seen through the mist.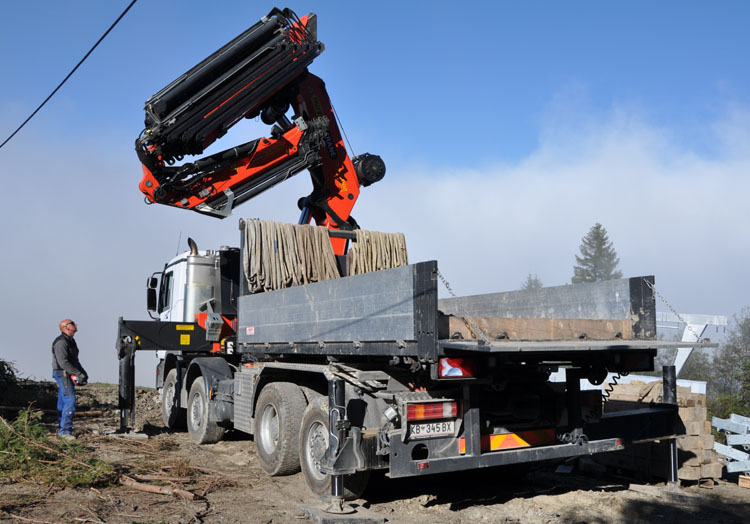 This is the machine, the crane was just folded down as I arrived. The Alpspitzbahn (cable cart) is being expanded with a 2nd part that reaches to the top.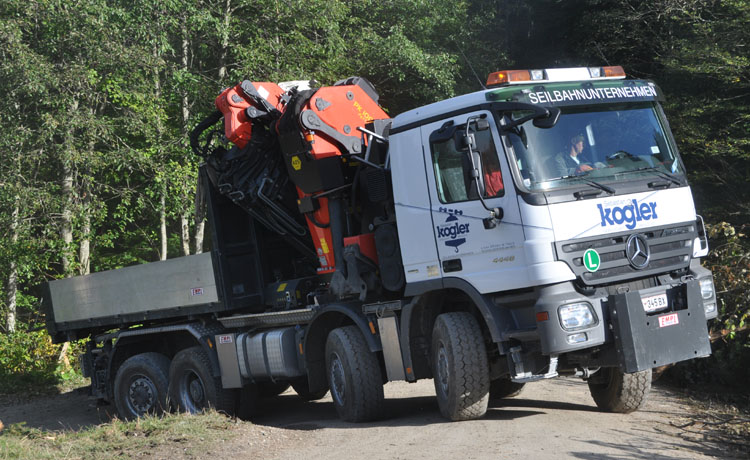 This is done by the company Kogler Seilbahnbau from Brixen im Thale (A), working with their Actros here. Here we can see how manoeuvrable this Actros is, the steering rear axle comes in handy on such tight mountain roads.
For working in the mountains they needed traction, so it had to be an 8x8. But manoeuvrability was also necessary, so more steering axles where required. The result is this nice Actros 4448 8x8*6. The base is a normal 8x8. The last axle of the tandem was removed and replaced by a driven and steering version, the same one as the front axles. This larger conversion was done by Paul in Passau.
From this level the truck drove backwards downhill to the storage space for the lift-parts. On this steep part they braked mainly with the engine brake.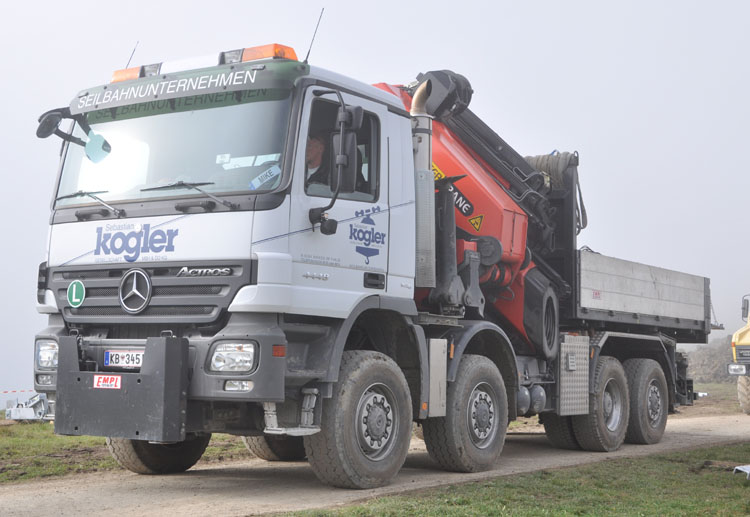 From this side we see that the truck has the wheelbase of an 8x8, but in reality it is about as manoeuvrable as for example this 6x6/4 Actros. The advantage is that is now has enough capacity to carry such a heavy crane. The Kogler company owns another Actros, a somewhat older 8x6 model.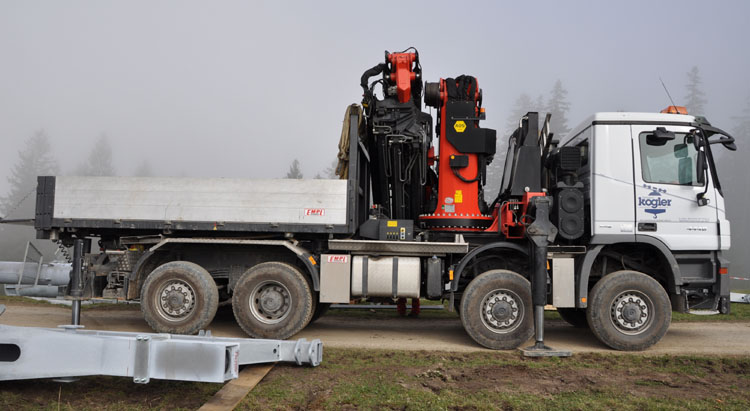 Behind the cab stands a Palfinger PK100002 in the G-version, meaning it extends 8x hydraulically. It is the version where the crane stands behind the front outriggers and not on top of them. The other version would probably be to heavy for the front axles and also to high for an 8x8. The crane also has got a jib mounted to it, that gives the crane a little bit more height when it's folded. It's a PJ170E with DPS that extends 6x and has 1 manaul part. The total outreach of the crane is just over 34 meters.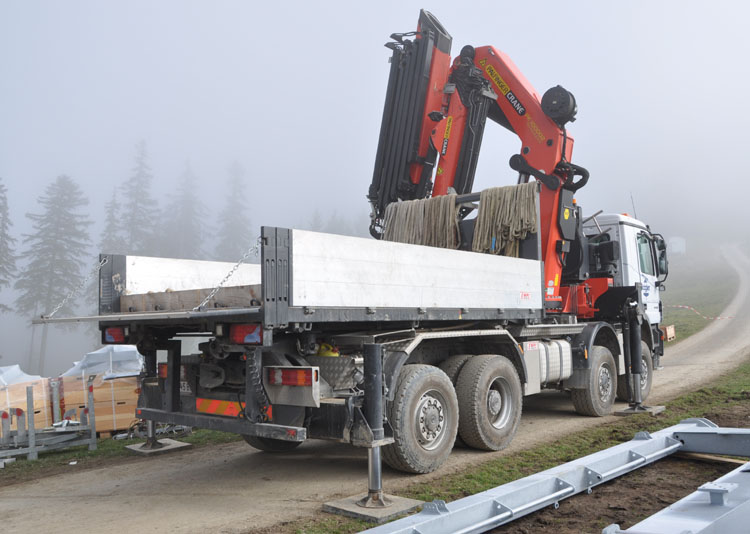 The flatbed is mounted here, so that truck can carry loads. It can also be taken of so that it becomes a tractor, and can be used with a trailer. Kogler owns a rather compact 1-axled trailer for that purpose, that off course has a steering axle.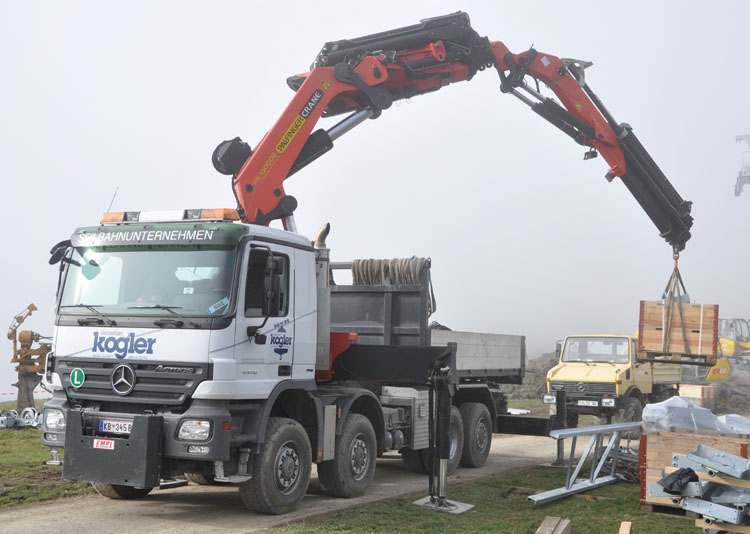 At this depot, they only loaded a small box with parts, an easy job for this crane. The chassis of the Actros has the standard Mercedes reinforcements at the chassis underneath the cab. The builder Empl from Kaltenbach (A) installed 2 extra outriggers to the front bumper. This way the crane can also be used the front, probably with a somewhat reduced load.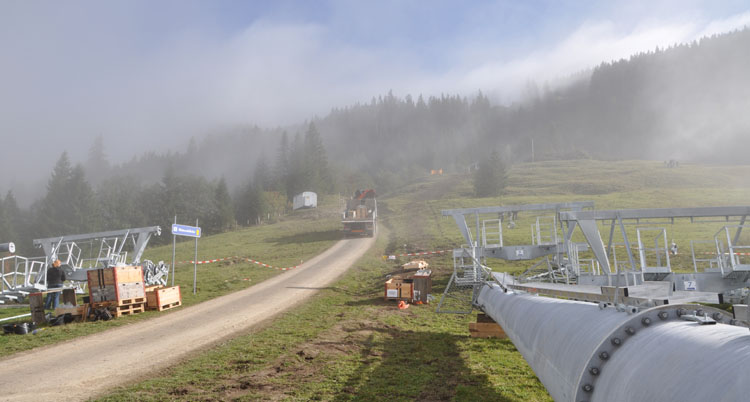 And then the truck left again, disapaering into the clouds :)
A very interesting crane truck, mainly because of the special Actros in this case!!
Back to the: Mercedes index / Palfinger index