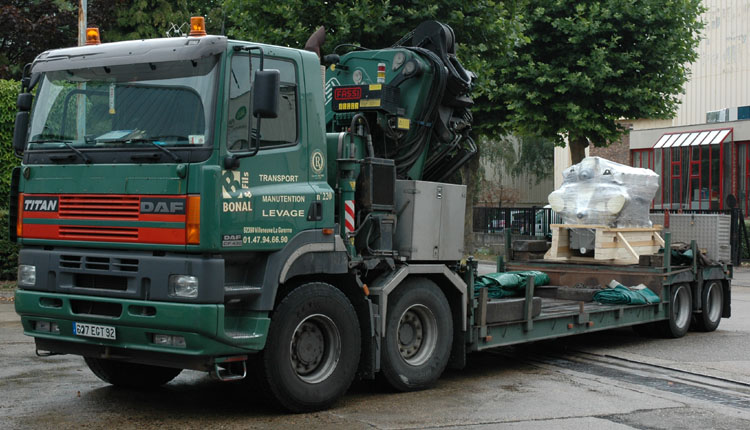 This very rare vehicle is a french Titan (so, not the german one!) of the company Bonal & Fils from Paris.

The first thing that catches the eye is the very low loading floor that it has. In order to get this, the truck had to be equiped with front wheel drive. Only the front axle is driven.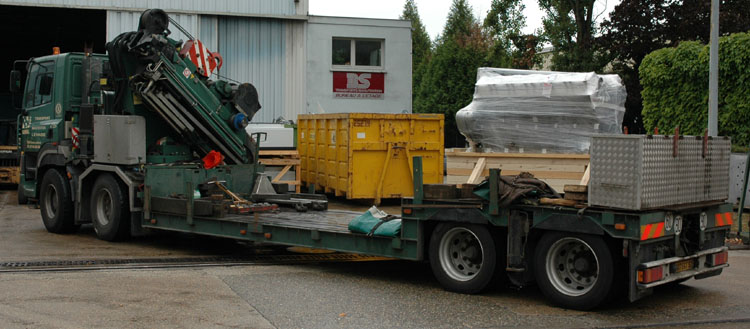 The low floor is very important during the moval of machinery with a height of more than 3 meters. You don't need a extra low loader for that anymore.
Behind the DAF 85 cab they mounted a Fassi 900. This is a crane with a outreach of 16,2 meter, there it still lifts 3,8 tons.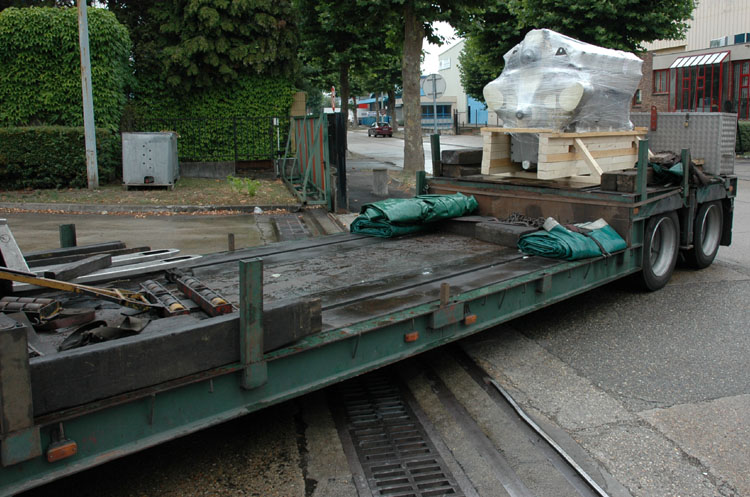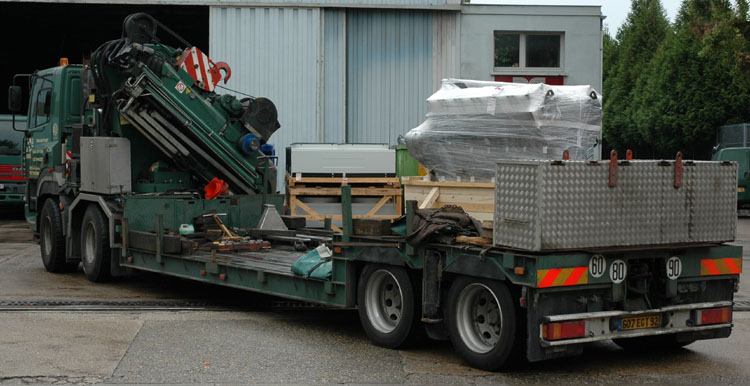 The rear axles are not steered when the vehicle is driving on the normal roads, the law doesn't permit it. On tight locations, for example in hallways, they can be steered hydraulically to make the truck much more manoeuvrable.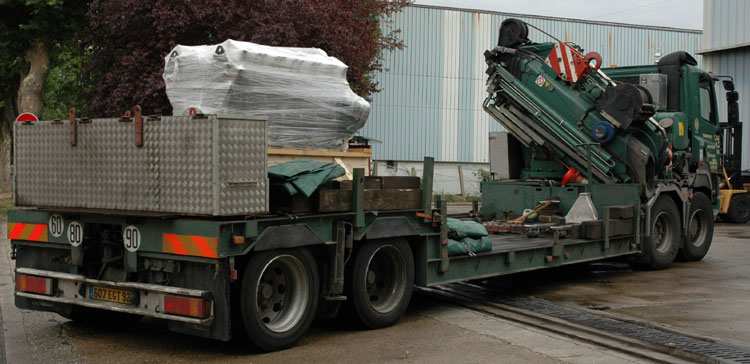 Between the axles they mounted support legs for the crane. The total lenght of the vehicle is 12 meters, the own weight is about 25 tons. It can carry loads of 15 tons, and even more with a permission.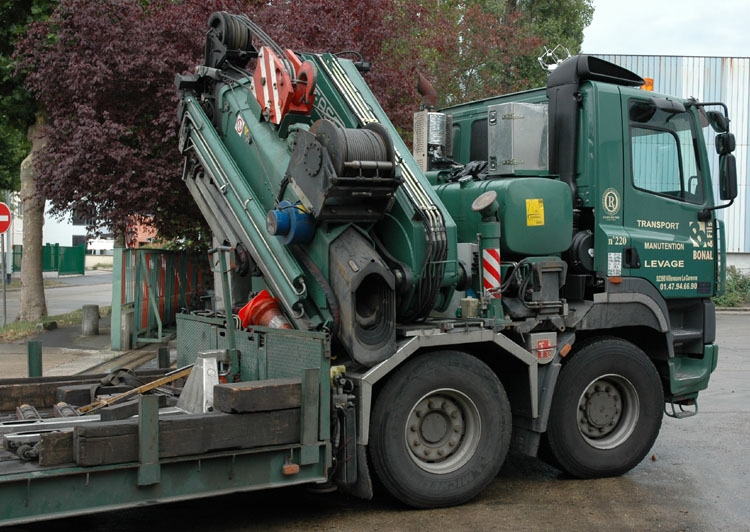 Here we see the crane from the other side. The crane has a winch, whose cable is connected to a crane hook. For this feature they mounted some sheaves at the top of the boom. The crane is supported by the already mentioned outriggers at the rear, 2 others directly beside the crane and 2 other that are mounted at the front of the floor.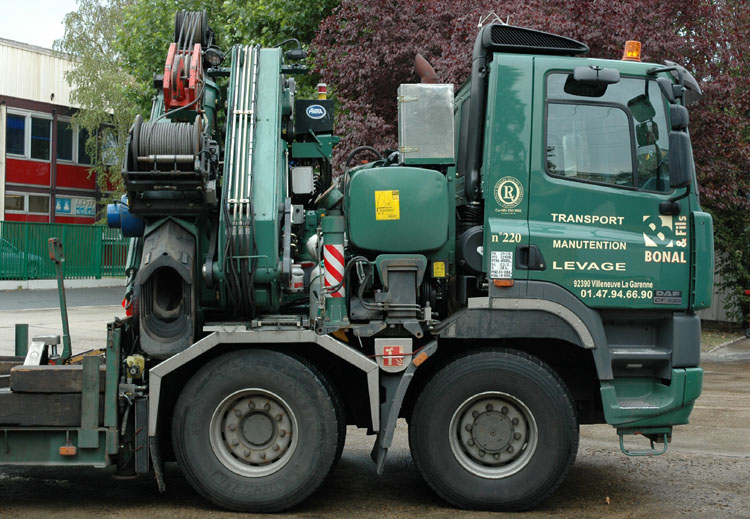 To get front wheel drive they had to make some modifications. The truck has the cab and the 430 hp engine of a DAF 85 as a base. Behind the engine is the gearbox that again is connected to a drop-box. This drop-box usually devides the torque between the front and the rear. Here, everything is transferred to the front axle. The 2nd front axle isn't driven, there isn't enough room for that.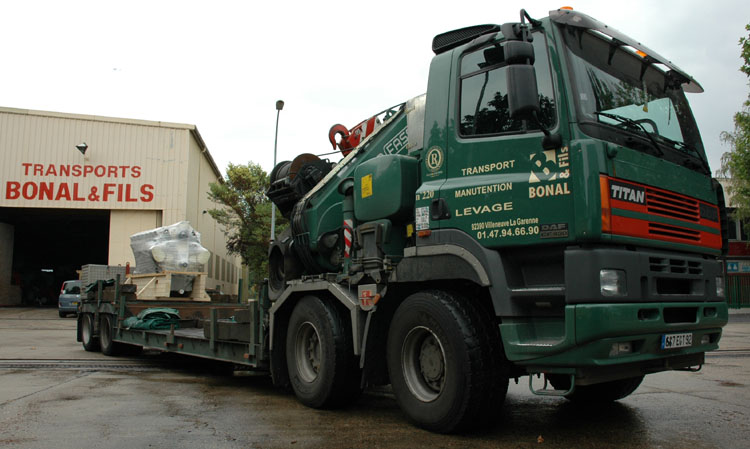 This is also a truck of which only one exists, a really unique piece of work !! Unfortunatelly there is not a lot of information about the company Titan, their webpage has been offline for a while now. They belong(ed) to CNIM, but that is where the trail stops.
With thanks to the company Bonal & Fils for their co-oporation
Back to the: Other truckbrands index / Fassi index