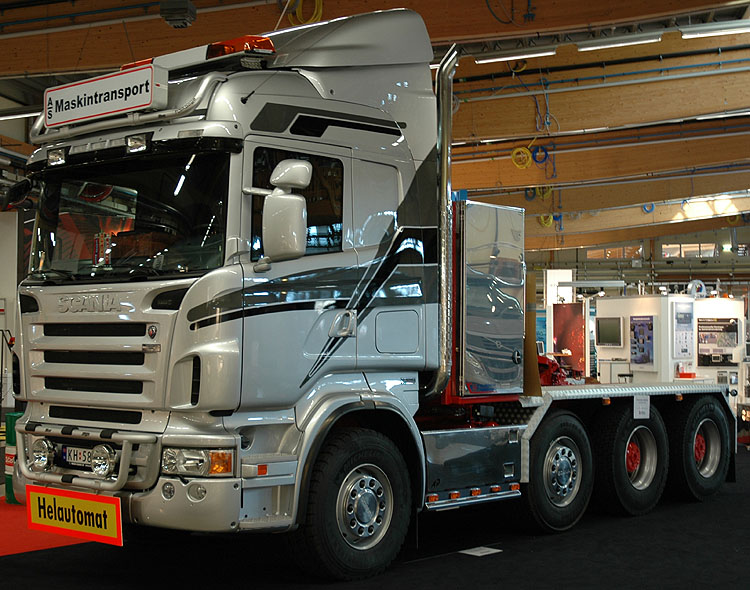 Very nice Scania R620 8x4 tractor of AS Maskintransport from Skotselv (N).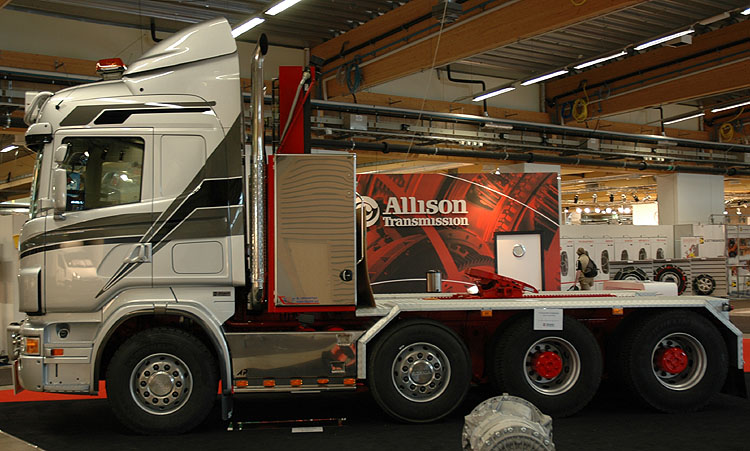 The tractor was standing at the Lastbil 2008 fair in Sweden and was shown at the stand of Allison Transmission.
He stood here because after it's delivery the tractor was equiped with an Allison 4700. That is a fully automatic gearbox with 7 gears and a secondary retarder that is intergrated in the gearbox. A fully automatic gearbox has a torque converter that gives the truck the ability to drive away smoothly, even with the heaviest loads. As an automatic gearbox can shift under full load it is a good choice for heavy transport. The only disadvantage is that the available 3000 Nm of engine torque have to be reduced to the ~2500 Nm that the gearbox can handle.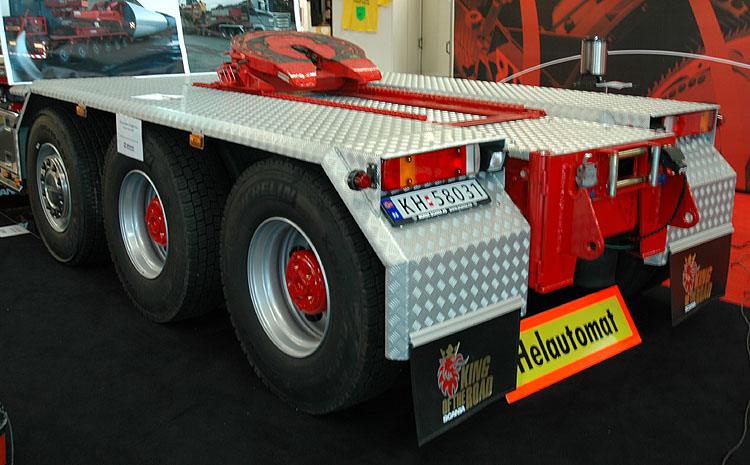 The rear side of the chassis, clearly visible is the large sliding rack for the fifth wheel. In the rear of the chassis there is a hole with rolls, which can be used for a winch cable, I couldn't find a winch on the truck tough.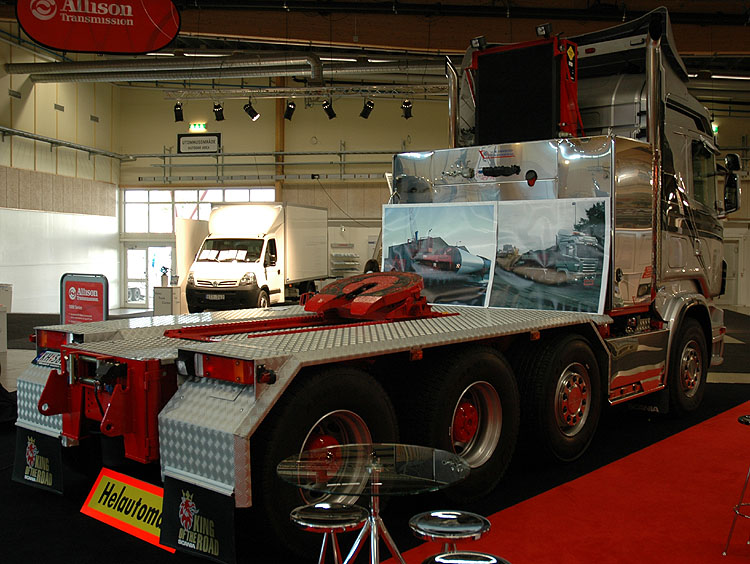 Also visible at the rear of the chassis are 2 steel plates with holes, these can used to connect a extra axle to the chassis, this way it gets a 5-axled tractor.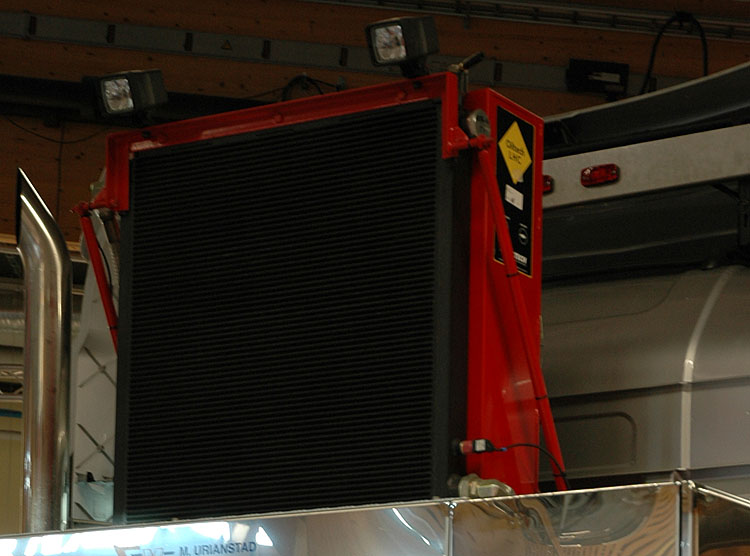 A better view on the very large Oiltech oil-air cooler that is mounted on top of the tower. It is necessary to cool away the heat that can be produced by the torque converter or the retarder of the gearbox.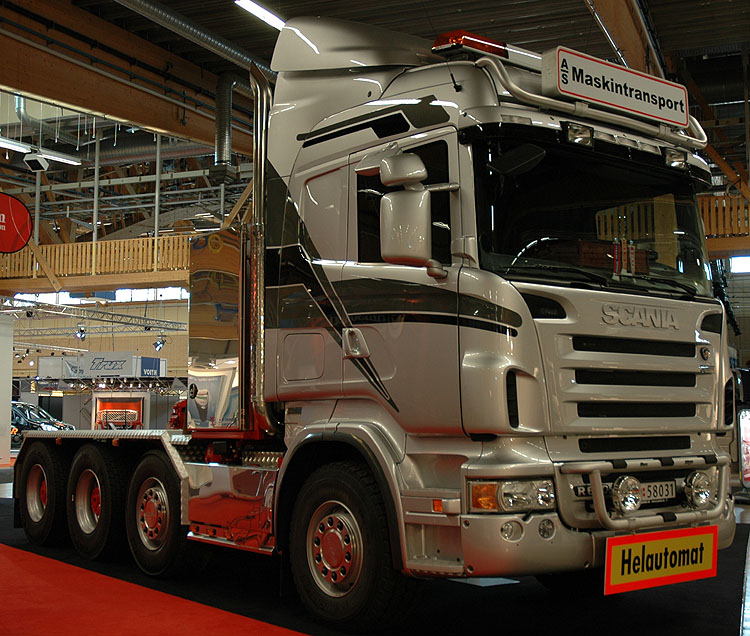 As already said above, an automatic gearbox can make a gearshift under full load. This is important for the mountaines Norway, where a lot of roads have long inclines. With a heavy transport you will be having (back)shiftings under full load on such roads. With normal gearboxes the disconnection of the powertrain usually gives a rapid loss of speed, which is not the case with this kind of gearboxes.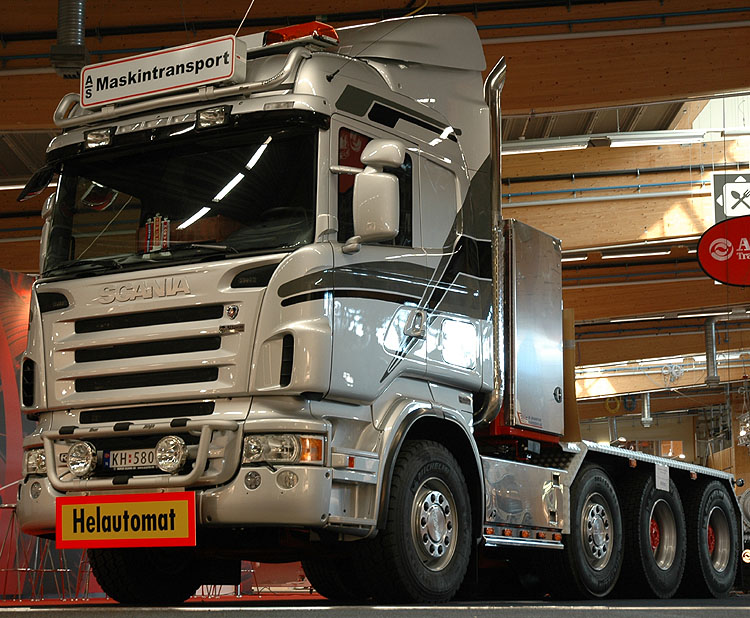 Definately not a cheap solution, but one that can make itself paid if the transport conditions are right.
A nice machine, it's looks aswell as the technical side !!
Back to the Scania index