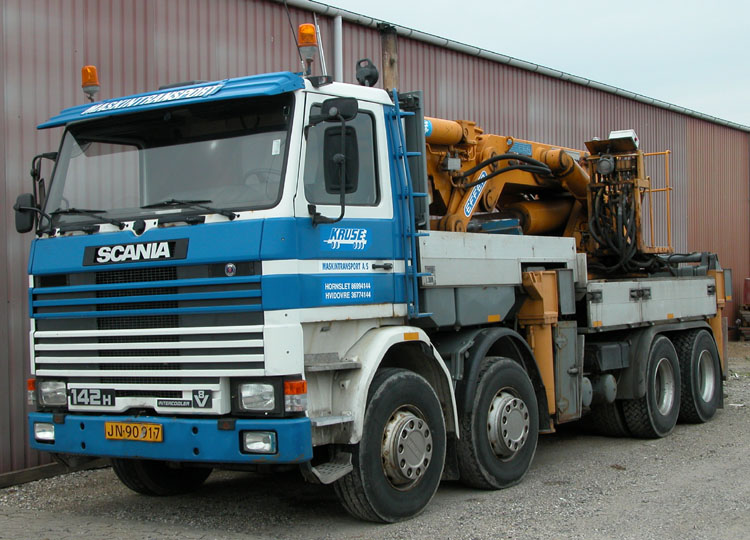 Kruse Maskintransport a/s is a machinery mover from Hornslet in Denmark. They operate from 3 different offices, also from Aalborg (Aalborg Maskintransport) and Hvidovre near Copenhagen (used to be JM Nordic Maskintransport). During a visit to Denmark in 2004 I could photograph this nice Scania R142H 8x4 in Hornslet.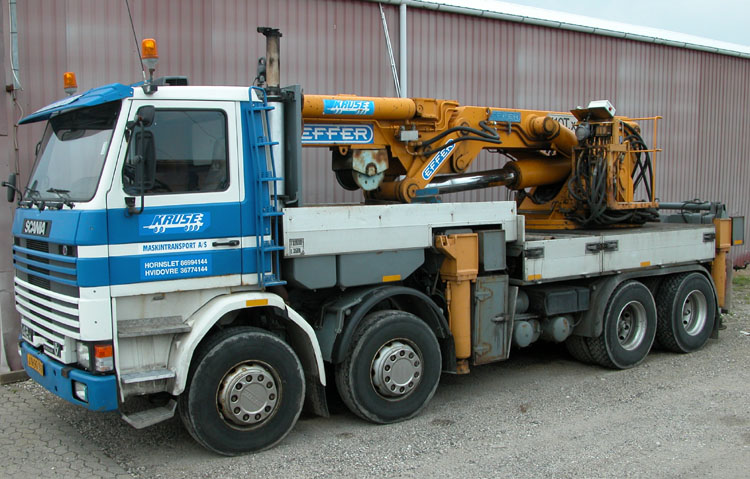 This tough looking crane truck from the 80's is equiped with a, definately for those days, heavy Effer 110 TxM. These modelranges had a name according to there maximum lifting capacity, in this case ~110 tm. This crane was and still is the heaviest in the fleet of Kruse.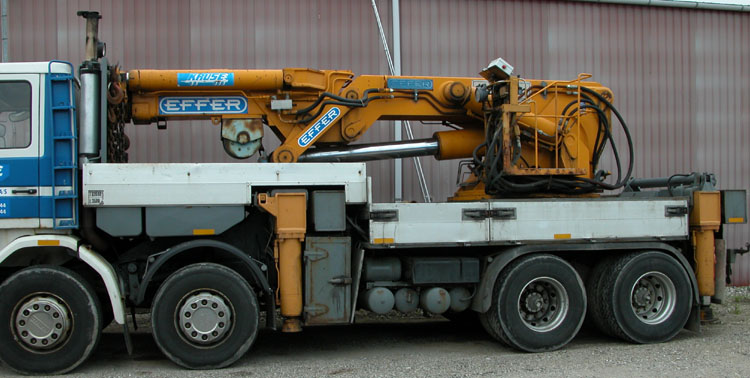 The crane is mounted far to the rear between 2 heavy sets of outriggers. This kind of outriggers can nowadays be found on the 2100 and 2200 models, real heavy units. The crane is very low, helped by the long wheelbase that allows the crane to be placed behind the cab. The lowest height is reached when the last piece of exhaust is taken of and the warning lights are demounted.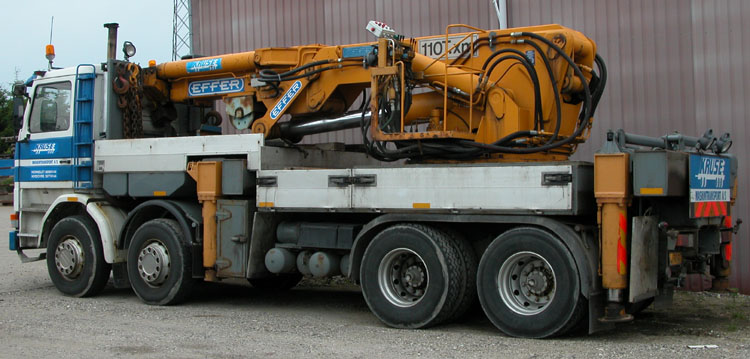 A operating stand is mounted beside the crane. I don't know if the crane could also be used with a remote control in those days, probably not.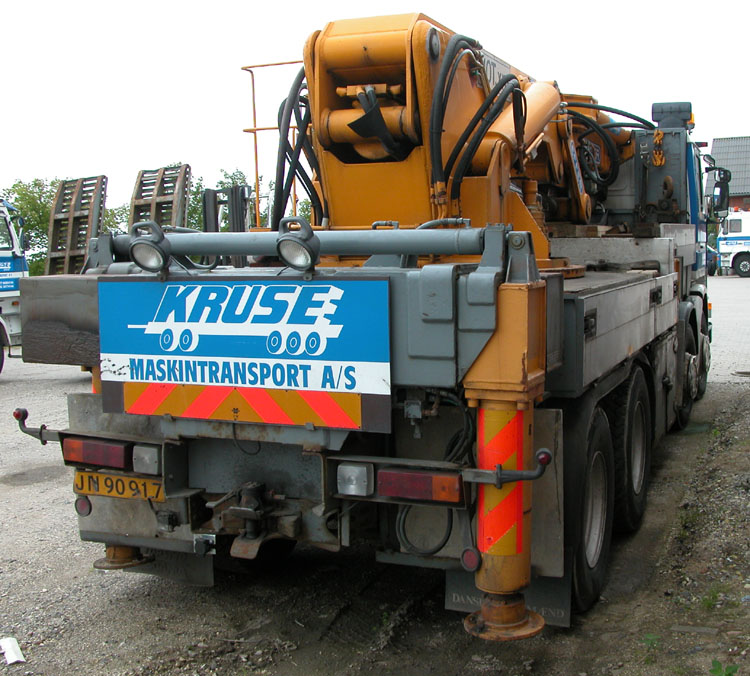 A drawbar coupling has been mounted to the rear of the chassis. The large size of the outriggers can be seen here, aswell as that of the turn-table and the crane foot.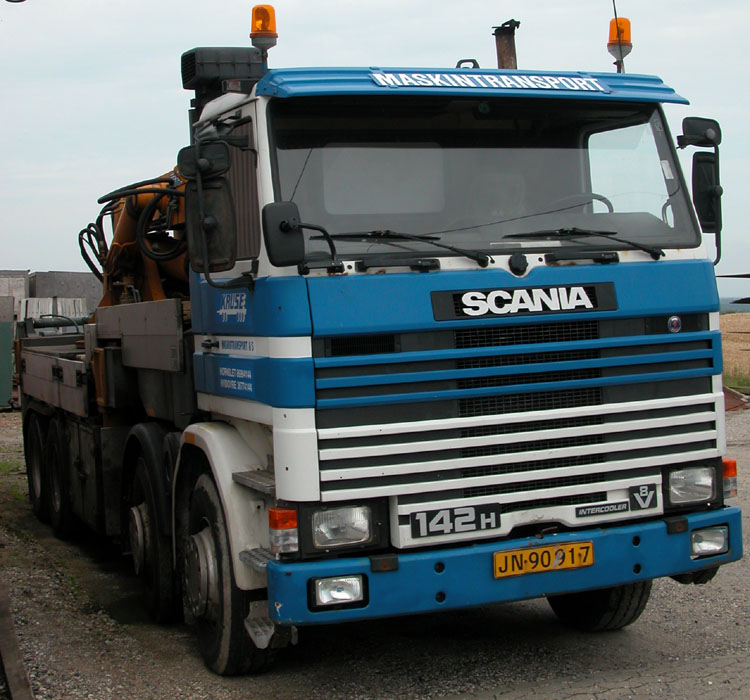 So this was 4 years ago, a crane that had already done it's share of work. Back then I was happy to get pictures of it, as you never know how long these crane will be around in Europe...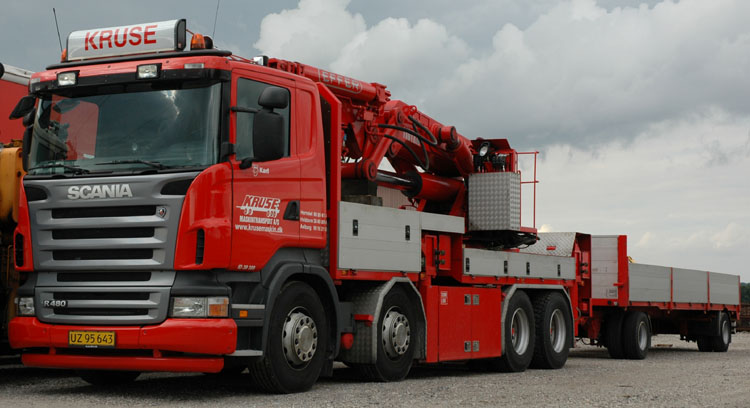 But then suddenly there was a press-release where a familiar crane could be seen on a new truck!!
This was reason enough for me to visit Kruse in Hornslet again :-)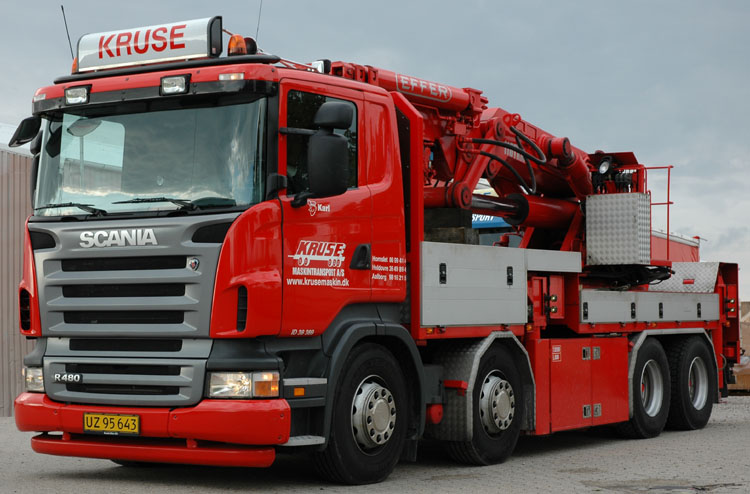 The 110 TxM stayed in Denmark and was completely overhauled and mounted on brandnew Scania R480 8x4. The overhaul included complete dismantling of the crane, sanblasting it and checking it for cracks with x-ray. After that everything was build together again and painted in the new company color (old colors of JM Nordic).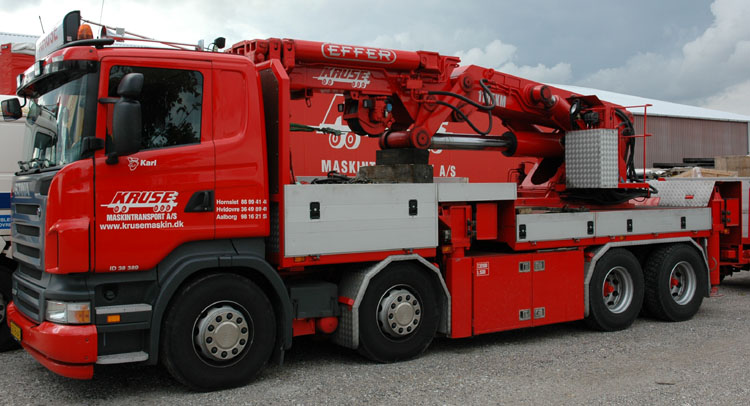 During the overhaul it became clear, this classic crane is still in great condition!! It can do heavy work for many more years.

This obviously shows how robust machines are from the days where they were not designed by CAD but on paper, cranes with a lot of reserves. The crane with subframe and outriggers where not changed, it nevertheless fits perfect on this new R-series. The new Scania has full air suspension to get the same low vehicle height.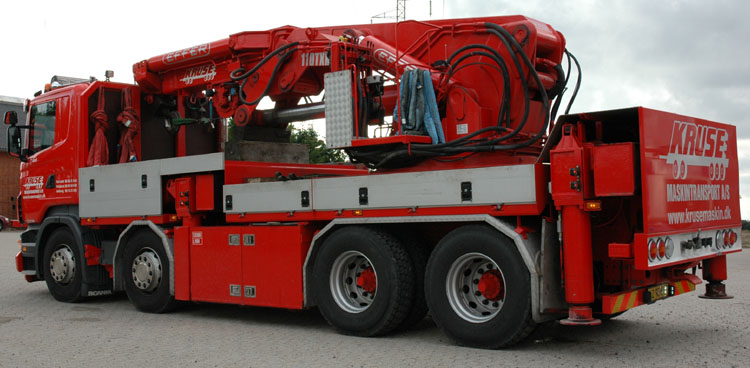 The operating stand has been changed and now there is a antenna visible, so I asume that the crane now has a remote control. This side of the chassis got a big storage compartment.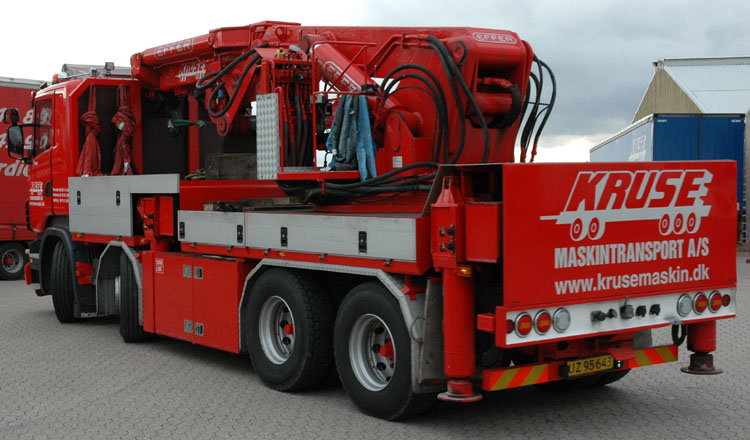 This stays the heaviest crane in the fleat of Kruse. Other units are a Effer 80N on MAN 8x4, a Fassi 800 on Scania that can be seen here (ex JM), and a also overhauled Fassi F430, some more smaller crane trucks, a few machinery trailers and of course some heavy forklifttrucks and hydraulic lifting beams.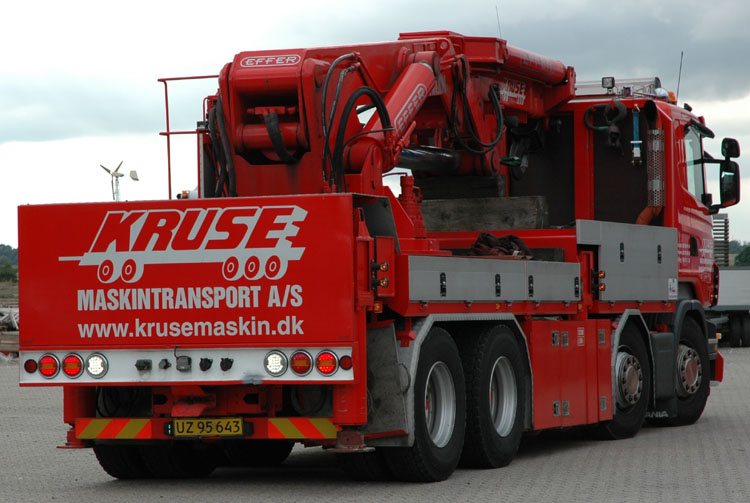 The rear of the truck was filled with a large plate to fit the company's logo and name.
Some lifting values of this robust crane:
4,87 mtr - 23 ton
6,29 mtr - 18 ton
7,69 mtr - 14,55 ton
9,09 mtr - 12 ton
manual parts:
11,59 mtr - 8,5 ton
14,2 mtr - 6,5 ton
The lifting table is comparable with an Effer 1550 4S, not bad for a crane from the 80's!

Here we can see again how low it is. The exhaust was already kept low this time. This side of the chassis is also filled with storage compartments. The dieseltank is mounted behind the higher side plate of the platform behind the cab.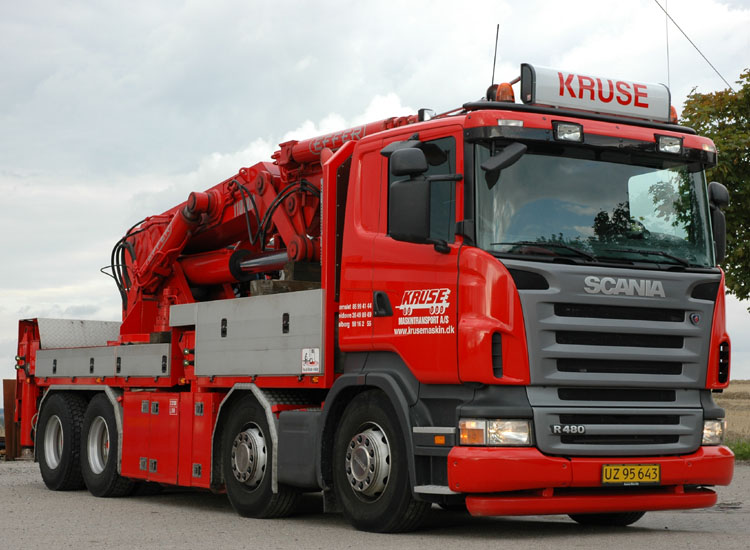 And the last picture of this impressive crane truck.
Back to the: Scania index / Effer index